Because I will be a new year 7 form tutor from September I was involved in all of the year 6 induction activities taking place at my school last week.  On Thursday morning I met my new form and we filled out some paper activities, giving me a chance to speak to each new member of the form individually.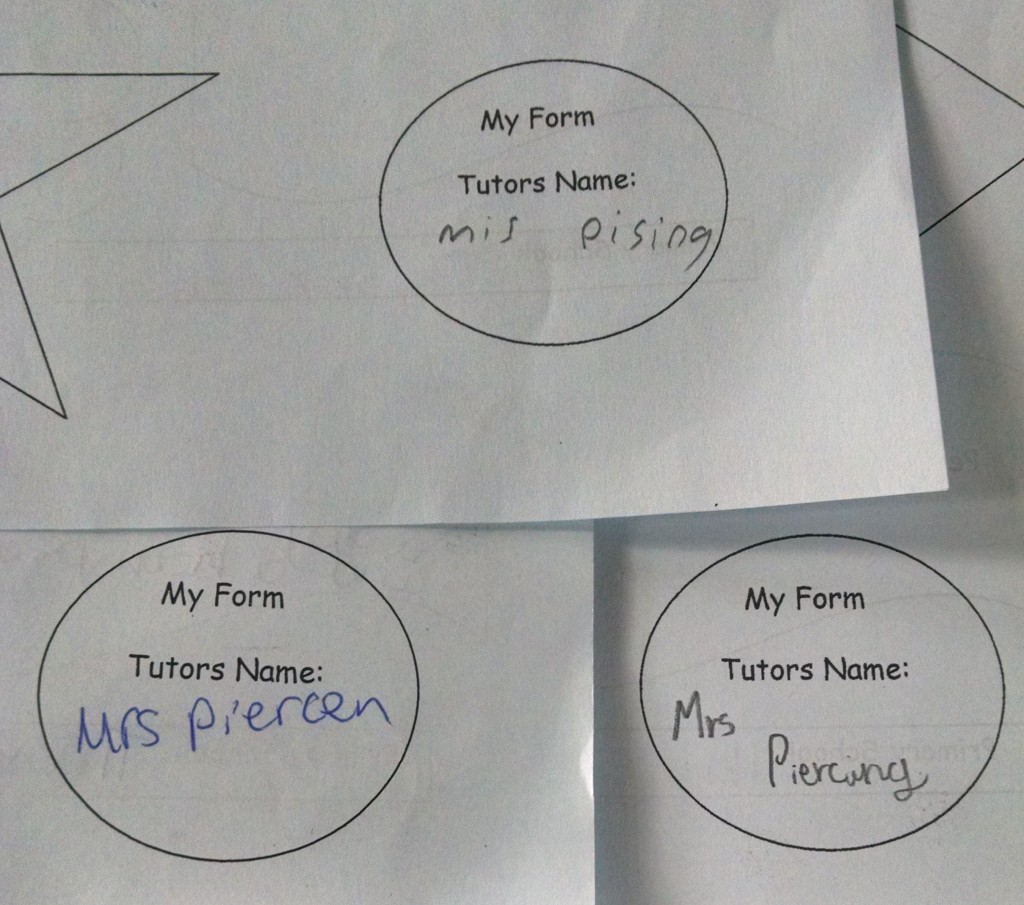 …and also correct them on the spelling of my name!  Not sure I'm a fan of any of these variations…especially the top one!
In the afternoon the students returned to me after a day of lessons and we took a little tour of the school before finishing at the bus station for them all to be collected.  Parents returned to school three hours later for a brief greet from the head and then, along with the other form tutors, was let loose with the parents of our form to answer their questions and inform them of what would happen in September.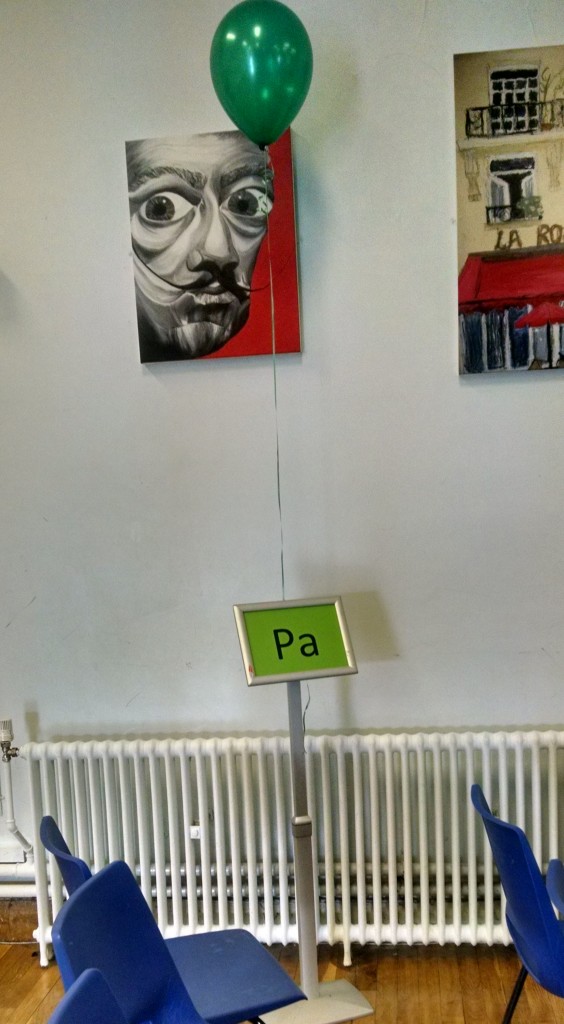 I hope the painting next to my green balloon isn't meant to symbolise me or anything.  I'd like to think I don't come across like that! 😛
The real fun was the year 6 sports day on the Friday though.  I arrived at the school track at 9am on Friday morning to see a sea of green t-shirts (my form colour) headed in my direction.  Our form took turns at target throw, 70m, javelin, long jump, shuttle runs, 200m, high jump and 400m relay running.  Breaking only for lunch and some 'rest' that was scheduled into our timetable.  For this we stretched out under the trees in what little shade we could find and had a good get-to-know-each-other chat.
It was really good to get to know the students outside of the classroom environment and we had started to build a bit of a team bond by the end of the day which was lovely.
Obviously, I joined in with the activities where I could, recruiting those students unable to take part (fasting or injured) to take pictures and help with scores so that I could help with the team too.  😀
There was an odd number of students to run the 6x10m shuttle runs, so I offered my services to run alongside the final student so that he would not be left out there on his own.  I was enjoying cruising alongside him until I stopped at my fourth shuttlerun, thinking I had already run six!  It's running, – I swear I lose my ability to count when I run!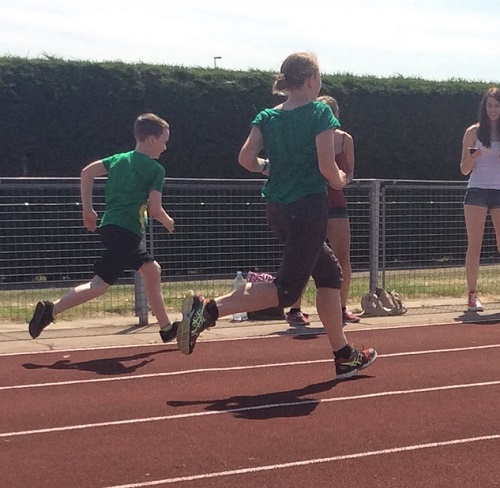 Quite a few of the students were very nervous about taking part in the 200m run.  At least six of them came to me individually and asked if they could sit it out.  I told them that I didn't mind if they ended up walking it but that I would love to see them all giving it a go and that I would run alongside anyone who wanted. (no-one took me up on the offer though.  

 )  One by one they ALL had a go, and there were no walkers at all – each and every one of them ran until the very end.  I told them how proud I was!
The final event was a form 400m relay and I felt awful being able to choose only eight students from the thirteen that wanted to take part.  It was lovely to see some volunteers that had previously been nervous about running the 200m though!  It was at this point that I was also roped into the staff 400m relay along with another female member of staff and two males.
I've never run relay before and as I stood nervously in my spot at the 100m mark I hoped I would recognise the teacher I was supposed to be running on from.  And the baton…What if I dropped the baton?!  It soon became clear though that we weren't competing against other staff teams…we were competing against the top four form teams!  The teacher handing over to me was really out in front from the students as he approached.  I backed off my line a little so that we would be able to run a few steps together on handover of the baton.  (I've seen the Fast Girls movie!)  I'm afraid though, despite running as fast as I could manage in my three-quarter trousers and without a running bra the kids gained on me and I lost most of our team's lead by the time I reached the 200m mark.  The teacher I was handing over to was a fair way past the handover line and as it turned out was less of a sprinter than me so our team lost miserably, but lots of fun was had, and the kids loved it!
I've definitely cleared up any doubts I had about being a long distance runner, – ultras are still the distance for me!
I had lathered loads of suncream on my face, neck, arms and legs during sports day but had missed the top of my back.  The new green t-shirt I was wearing must have had a lower cut back than I am used to and I got quite badly burnt in the afternoon which gave me a lot of grief in the evening.  I was shattered by the time I got home!
I still managed to fit in a sneaky 5 miler after work though!  AND I finally sorted out my Strava account so that it shows more accurate readings of my runs.
My highest placing in anything running-related came on Saturday.  I was sixth lady at Corby parkrun.
Corby doesn't have a massive turn out of runners – with just 83 people running on Saturday – but I was the 40th over the finish line and the 6th lady of 29.  That was a good feeling!
My run itself was a little slower than the only previous time I have run Corby parkrun.  The morning was hot and humid even at 9am and having not thought about breakfast before it was too late my stomach was growling the whole way round the course.
I had no huge expectations for the run as I had initially planned on pacing a friend round a sub 31minute parkrun on the much flatter Northampton parkrun course, hence why I had headed out on a 5 mile run in the heat late on Friday night.  As the parkrun began I felt a little weak but soon got into a rhythm.  I used to get very nervous before every parkrun but I feel that I have taken the pressure off just lately.  I'm not aiming for a 5k PB at the moment (although it would be nice to get one at some point!) – I'm running to increase the number of parkruns I have completed, to get a good start to the weekend and to catch up with friends!  Saturday was my 27th parkrun.  There is a good chance I will complete my 50th not far from the end of the year the way things are going at the moment and I'm looking forward to getting one of the fabulous 50 parkrun t-shirts!
Isn't it always the way that when you are looking good, on form and flying, there is never a photographer there.  But, the one time you fail to do anything with your hair, all you can think about is breakfast and you turn up in mismatched running trainers there are three out on the course!  There's a reason I chose not to tag the pictures from parkrun on Facebook this week!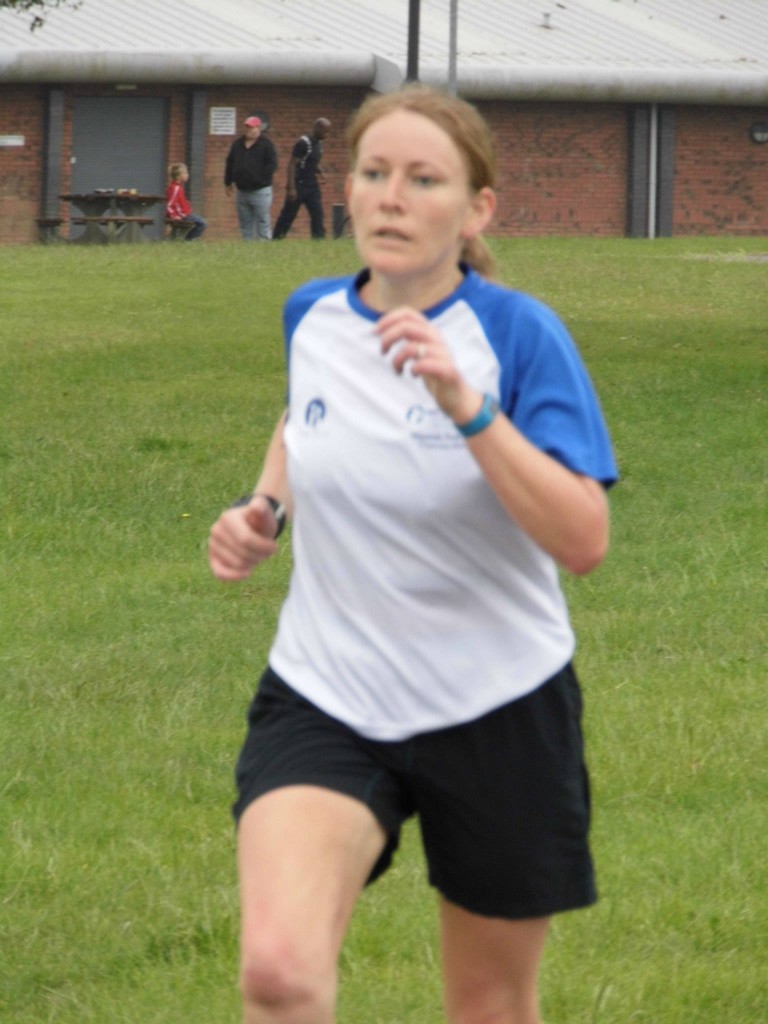 Yes, you read that correctly.  I got out of the car on Saturday morning all ready to go for a quick warm up and realised I HAD PUT ONE ROAD SHOE ON AND ALSO ONE TRAIL SHOE ON!  Very, very special indeed!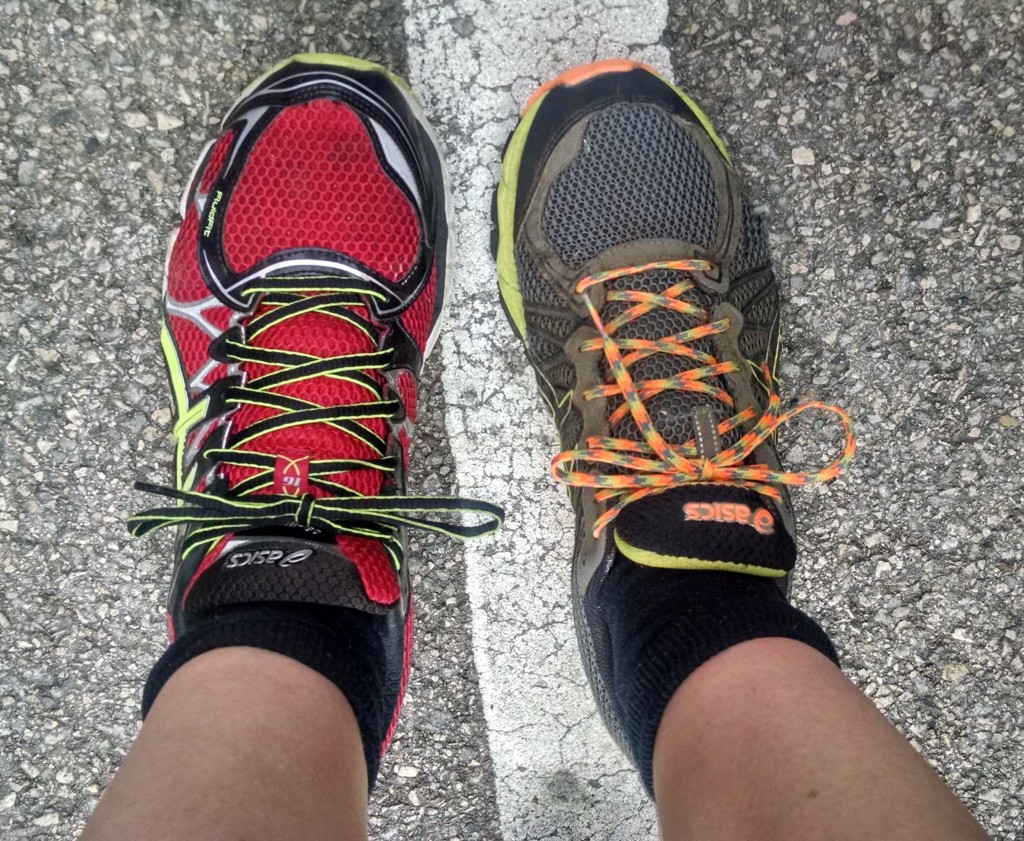 I had been in debate over whether to wear road shoes or trails.  In the end, I settled on trails (apparently only in my head!) as there had been a heavy rain that morning, and a large section of the course is run on grass.  I don't feel so stable in road shoes when I run off-road and much prefer to wear them for faster road racing instead.
For a few moments after I got out of the car I was rather upset, thinking that I was going to have to abandon my run, but luckily, I hadn't removed my old trail shoes from the boot of my car since the Winter and so I threw a pair of old shoes on instead.
I had a relatively good run with splits at 8:29, 9:10, 9:47 and 7:26mm for the 0.18m nubbin.  The first mile of the Corby course is flat, hence the much faster mile time.  You then run two large laps of the park, taking in two short, sharp hills on each lap for miles two and three, hence the slower times.
My heart rate stayed fairly steady at 165-170bpm the whole time, so my effort levels were consistent and I finished in 28:51.  Dan finished just five places later in 29:57.  It seems that everyone was about 20seconds slower than their normal times, I guess due to the humidity on the morning.  I was definitely ready for breakfast by the end!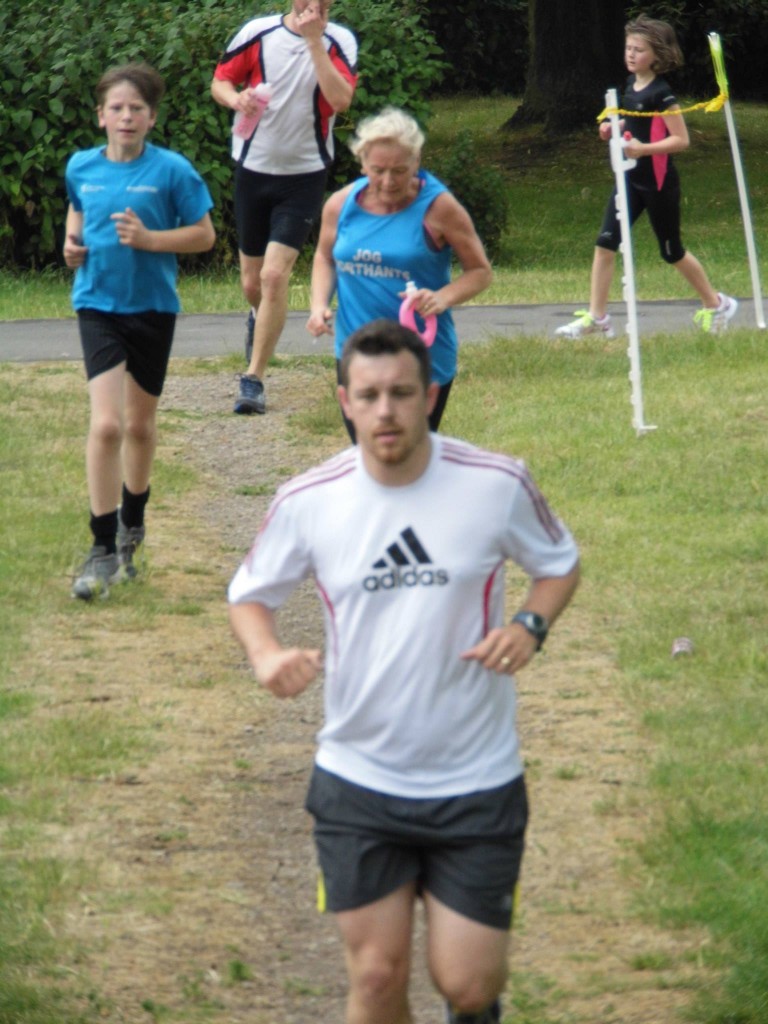 After a quick brunch, Dan and I headed out to town to shop around for some essentials for our new house.  We really need a new fridge as our current one has been leaking for quite some time.  We're using the move on Monday as an opportunity to bump off our old fridge and bring a new one to the new house.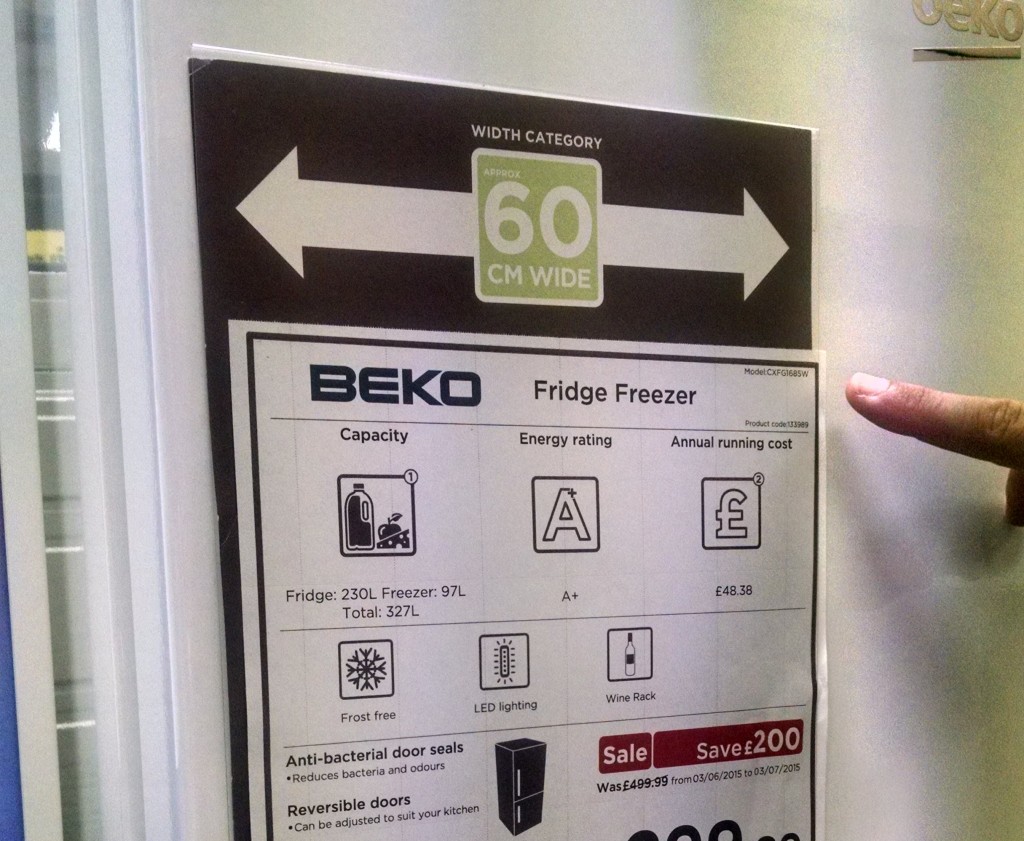 I could stand this shopping around as we did need a new fridge, but when Dan wanted to look round all the rest of the furniture shops in town I got bored very quickly!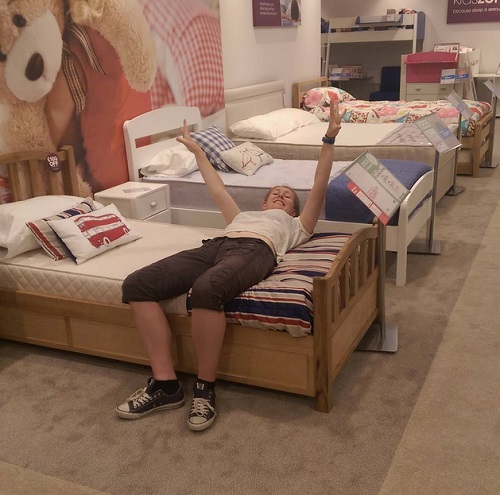 I'm not a big shopper at all!
Have you taken part in any sports days since being at school yourself?
How many runners attend your local parkrun?
Do you like shopping or find it a chore?