Dan has been away since Friday and should hopefully return tomorrow.  Our lives seem to be chok-a-block right now and the things I could do with a long weekend…!  Not, it seems, when you have sole responsibility for an eight-month-old baby though.
The first day was fun.  We had lots of playtime, a couple of naps, some messy food, a fun bath and bedtime cuddles.  Day two and things were pretty similar.  Day three, and the company was still silent (From words anyway.  There was plenty of screeching going on!)  I love that I am able to spend all day, every day with Oscar, but I also love having an adult to spend time with in the evenings when Oscar is in bed too!
I admit I was going a little insane by lunchtime today, so treated myself to a falafel and halloumi salad at Castello Lounge in Wellingborough in order to get out of the house and have interaction with other adults.  I probably looked a little insane, sat in the corner of the lounge with just a baby who insisted on 'chatting' to me the whole way through the meal!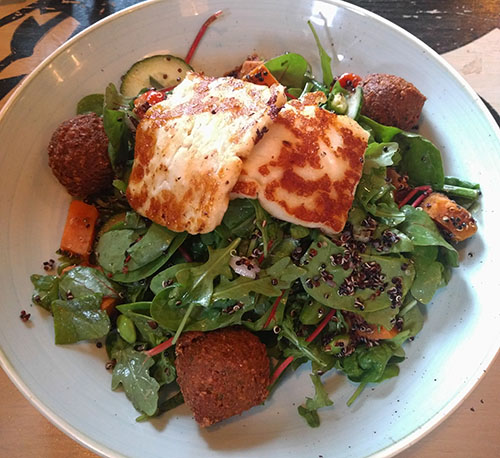 I was allowed to treat myself anyway, after saving our household from the beast of a spider that turned up on the dining room floor, just hours after Dan had left for his friend's stag do.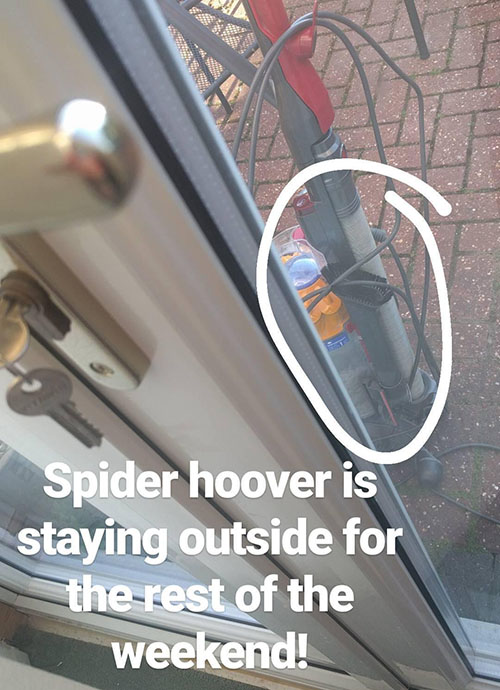 I did manage to get a couple of runs in over the weekend too, although it appears I didn't plan them out very well.  One of them ended up with me holding Oscar up in the air, whilst two strangers passed the buggy over a locked gate.  Oscar and I also stood and waited patiently for a three-way temporary set of traffic lights to turn green at one point, and annoyingly, there were several tracks which had been runnable, no longer so due to the mixture of sunshine and rain we've had just lately.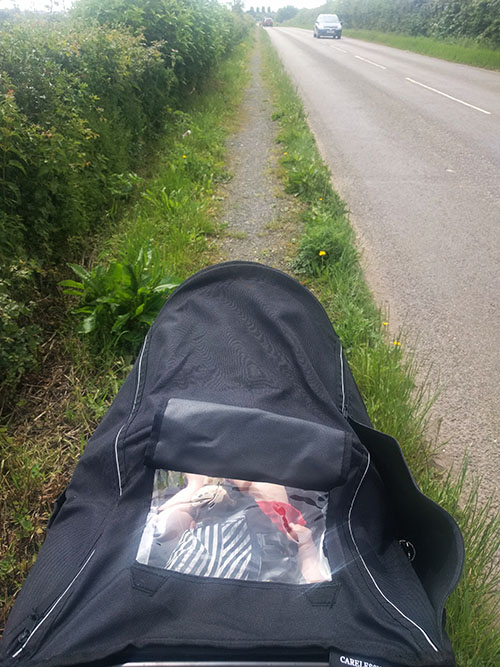 (This was when the path finally widened out again!)
It gave me a chance to think about my Autumn goals whilst I was out anyway.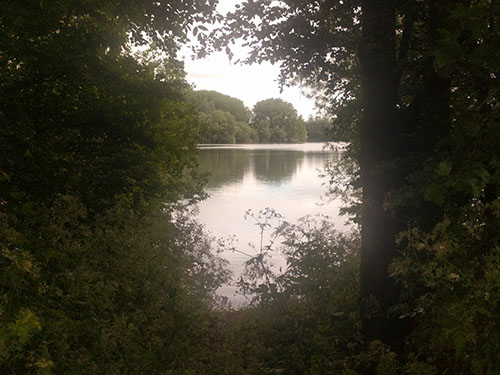 It seems a bit of a funny time to be setting aims and goals for the year – almost at the end of the 5th month!  However, my main goal for 2017 was to return to running successfully following the birth of Oscar and to complete the South Downs Way 50 in April, which I managed to do.  I always planned to reassess further goals for the year following completion of the ultra, once I had a better idea of my post-baby speeds and commitments.
The two running goals I have settled on for the remainder of 2017 are as follows:
1) To complete a marathon in under 4 hours and 30 minutes.
2) To complete a half marathon in under 2 hours.
Both would be fairly big stretch-achievements for me.  My current marathon PB stands at 4:54:08, when I ran Chelmsford marathon at the end of 2015.  My current half PB is 2:09:16, from Bedford half marathon back in 2012, before I even started blogging!  (Although, the half marathons I've run since have mainly been on trail and have never been a PB attempt.  My half marathon PB pace doesn't fall in line with my PB pace over other distances.)  I would prefer to aim high though and hopefully have a better chance of PBing to some extent, rather than aim to only just PB and run to the wire on the day.
The first goal was always going to feature at some point, although it took me ten attempts to break five hours for the marathon.  Fingers crossed that it doesn't take a further ten to break 4.5!
The second goal came about when I won a competition on Marcus' Instagram to win a place at Ealing half marathon in September.  Entrants must either be running their first half marathon at Ealing, or be aiming for their first sub 2 hour half.  I couldn't enter as my first half marathon, but I could enter for my first crack at a sub 2 hour time, so I did…and I won, making the final decision on that second goal for me.
When I started running five years ago I had all of these 'ideal' times for distances fixed in my head…30 minutes for a 5k, an hour for a 10k, two hours for a half and four and a half for a marathon.  The first two were quickly ticked off, but those last two are a work in progress.  Obviously these times are not magic numbers at all, and at the end of the day 26.2 miles is still 26.2 miles, no matter how quickly or slowly it has been run.  However, I would like to be able to get these two milestones off my back.  I'm hoping that training hard for the marathon will see my half time naturally drop.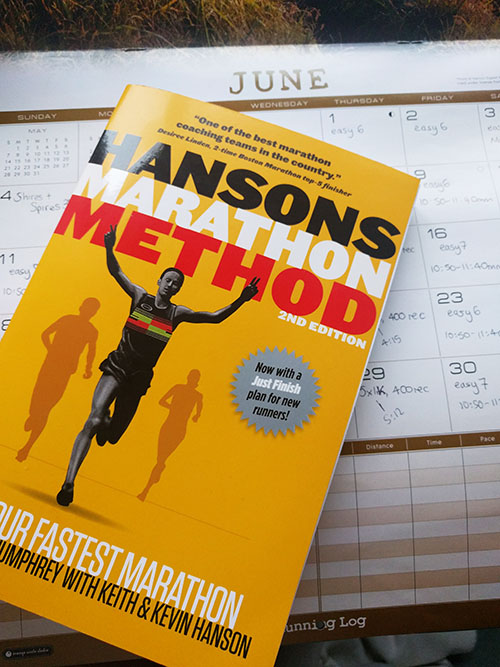 After hearing nothing but good things, I purchased the Hanson's Marathon Method* book a little while back and have been dipping in and out of the pages ever since.  This method of marathon training calls for six days of running a week, but runs in length of no more than 16 miles.  High mileage across a number of days throughout the week is something that has always worked best for me and, with a new baby at home I have struggled to get out for the long training runs this season.  I am hoping that the shorter 'long runs' that are called for will also work in my favour.  The idea is to complete lots of slow running on tired legs, building cumulative fatigue to mimic race day conditions.  A big fan of the method is Sara of 'Running Wife', whose blog is where I first read about the concept.  She went from a 4:40 marathon time, to a BQ (Boston Qualifying) time within one training cycle!
I am under no illusions that training will be easy, or that I will magically cut hours from my time, but after having read several success stories from other Hanson's Marathon Method runners I feel on board with the structure of the training as well as understand the reasons behind it.  I like working with structure when it comes to training plans, and I followed a specific marathon plan in the build up to my PB at Chelmsford at the end of 2015, which seemed to work for me.  The main reason I struggle to commit to plans usually is that I like my chatty, ad-hoc long weekend trail runs, organised sometimes only the night before.  They don't fit neatly into training plans, but they are a lot of fun!  Whilst Oscar is still so small though, I cannot justify leaving for 7-8 hours at a weekend to go running and for the cake and hot chocolates which undoubtedly follow.  Now is the time to follow a training plan and stick to a structured system.  The only 'must have' run I've kept in my plan is the weekly club trail run on a Wednesday evening, so I don't lose touch with my trail mates completely!  Wednesdays are actually the rest day on the training plan, so I've switched the schedule around slightly in order to suit me a little better.
I've also kept the remainder of the East Midlands Grand Prix races in the calendar, which I intend to run hard (2x 5 miles, 2x 10ks) and *ahem* will also be running the Shires and Spires ultra this coming Sunday.  But technically, that is actually the day before the 'plan' begins, so 35 miles this week should be just fine, right?!  😉
I've drawn up a spreadsheet with my runs and times, as well as added them to the calendar which is displayed in our dining room downstairs.  The marathon plan starts as I return to work for seven weeks.  I'm hoping (in a bizarre kind of way) that this will actually help me stick to the plan, as it will be a whole new routine for me to take on board from next week anyway.  As Dan will be dropping Oscar off at nursery on his way to work each morning the car seat will still be in his car when I go to collect O again in the evening as I return home from work.  Our plan at the moment is for me to either baby-wear Oscar the two miles home again (if the weather is nice) or run back with the buggy.  Then, I will have to head back out again later to collect my car for the following day anyway.  Might as well run rather than walk, and as I'll already be in my kit anyway, I might as well continue on to run the mileage on my plan for that day anyway, right?
This week in prep for starting the plan is as follows:
Monday: rest day
Tuesday: easy 6
Wednesday: trail run (6-7m)
Thursday: easy 6
Friday: rest day
Saturday: easy parkrun (3.1m)
Sunday: Shires and Spires 35m
We'll see how things go.  I'm prepared to be flexible, especially during these first few weeks until things have settled down with my return to work and Oscar's start at nursery.  If I need to readjust targets or alter paces in the plan, I will do so.  But I'm looking forward to having a running goal to work towards again.
Do you stick to a training plan for races?
What are your target races for the rest of the year?
Do you ever eat out alone?