One of the things I love most about blogging is the ability to look back at the end of the year and reminisce over everything I've done across the past twelve months.  This year has been a bit of a tough one for several reasons, and so not everything has made it to the blog, but I still managed to scrape together 45 posts during 2017.  I'm hoping to have a number a little higher than that for the coming year though as things hopefully start to settle down a little once more.
My 2017bestnine from Instagram: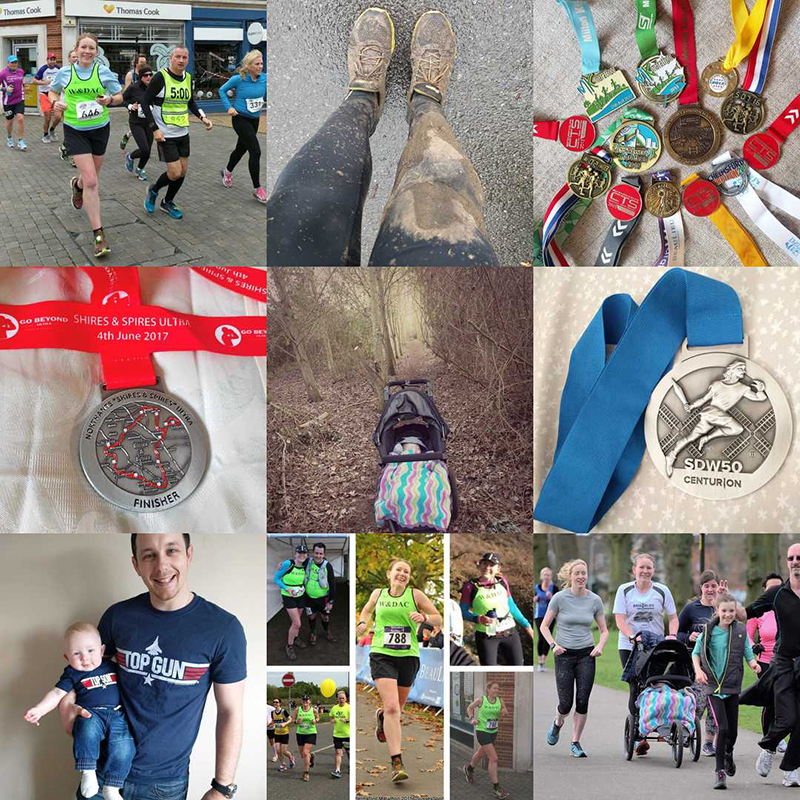 Medals, races and mud…that's what we like to see! 😉
I actually started posting a few images up on a separate Instagram account this year (fromteachertomum) so that I would be able to share a few select images of Oscar's adventures and Mum life without drowning my AHM fitness account with baby.  Just for fun, here's my 2017bestnine from that account as well: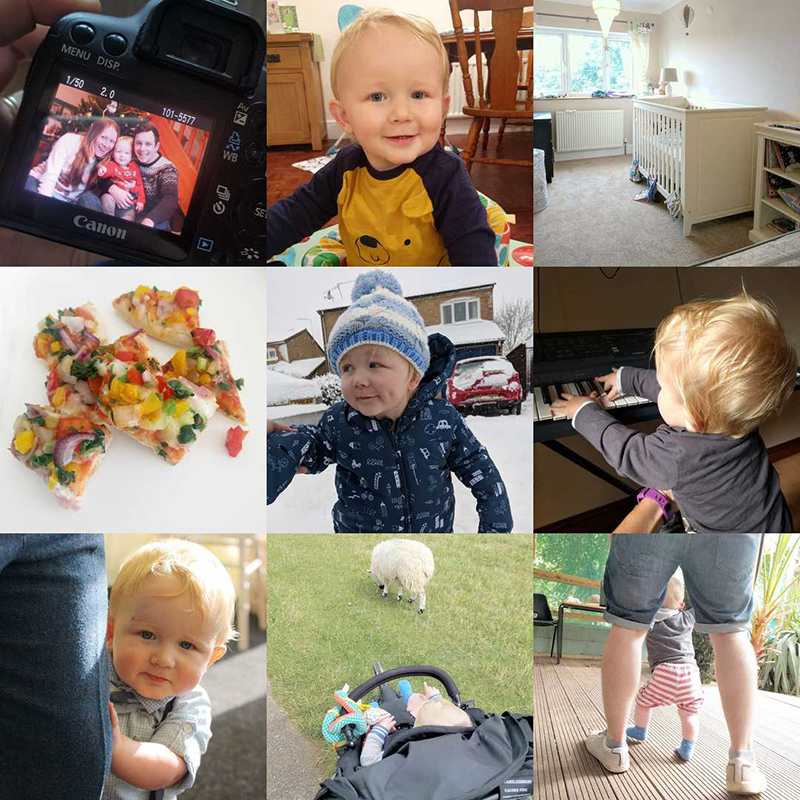 He has been a lovely little addition to our family.
January:
For the second year in a row I kicked off the New Year with a double parkrun, along with several other members from my running club.  In 2016 I had run Huntingdon parkrun followed by Peterborough which was one of only a few options of double day parkruns near to us at the time.  Word obviously got around though, because at the start of this year we had more to choose from and so I made the decision to head over to Milton Keynes to run the Linford Wood parkrun course, followed by a jog over for the Milton Keynes route a little later, and then a jog back to my car back at the first course again.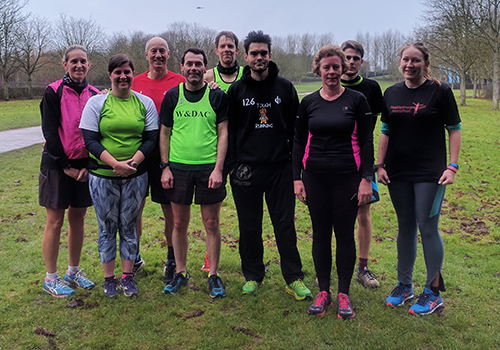 In the New Year Oscar started attending swimming lessons at a local pool in Wellingborough.  He was an avid hater of bath time up until this point but he absolutely adores his swimming lessons.  Other than the 8 weeks where I returned to work in the Summer term, he has been going weekly for a swimming lesson and can now get in and out of the pool safely and easily, kicks and moves his arms to swim and blows bubbles in the water.  He usually gets really excited when he realises we've arrived at the swimming pool and one of my favourite times at the pool was when the instructor got us all to lay the babies on a tilted hand float so that their legs were dangling in the water and then whoosh them around the pool alongside us like they were paddling on a surf board.  Oscar thought this was amazing and shrieked so loudly and for so long as he was so excited!  He absolutely loves being in the pool.  A proper little water baby!
Dan made the jump from working in IT development within schools during January to managing IT systems within a Nationwide Solicitor firm.  With a new baby and a three month job probation to pass we debated for quite a while before Dan eventually made the leap, but it was a great decision and not only is he very happy in his new role but he is now working much closer to home, leaving much later in the morning for work and bringing home more money.  Much better all round!
I ran the final cross-country race of the season at Sharnbrook this month.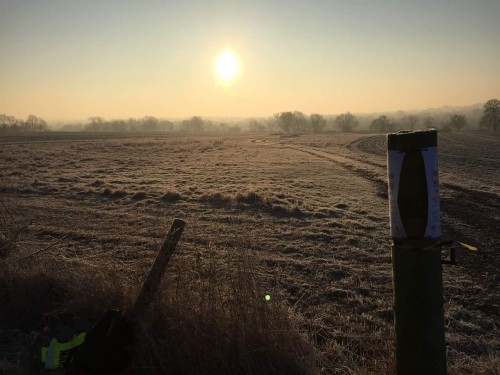 Dan ran the final Tough Mudder in Perton, Wolverhampton, which is the town his parents live in.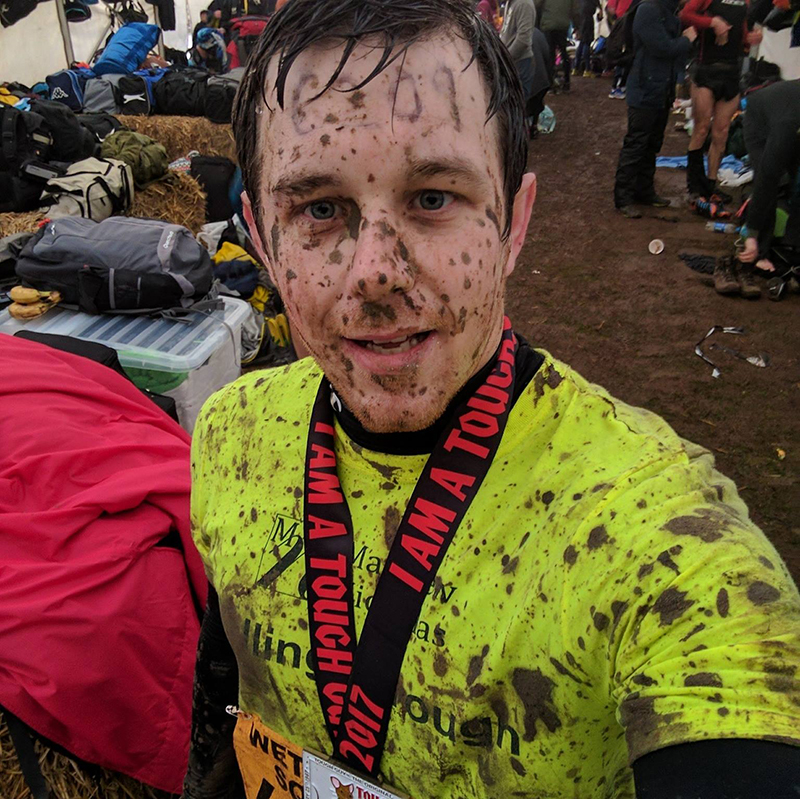 It's not something that wildly appeals to me to be honest, but Dan really enjoyed it!
February:
I started to realise that fitting in runs around a new baby would be more difficult than I first thought(!)
I ran my first half marathon post baby at my club's inaugural Welly Trail Races event.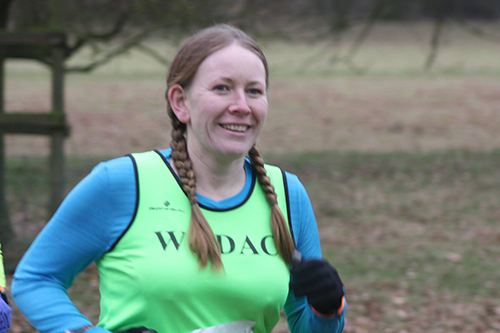 March:
I had managed to enter the Hunny Bell Cross-country race held a couple of miles from my parents' house in time to get a spot and so enjoyed a cross-country event outside of the Three Counties League I usually run with during the Winter months.  Both my parents were also able to see me finish a race, which was a first for my Mum.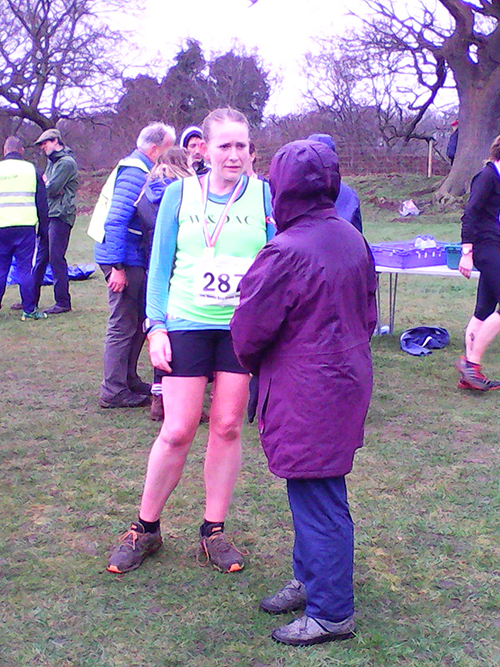 I finally got round to ordering Oscar's running buggy.  Something I had been avoiding until he was old enough to go in it, but something I knew I would order all along! 😉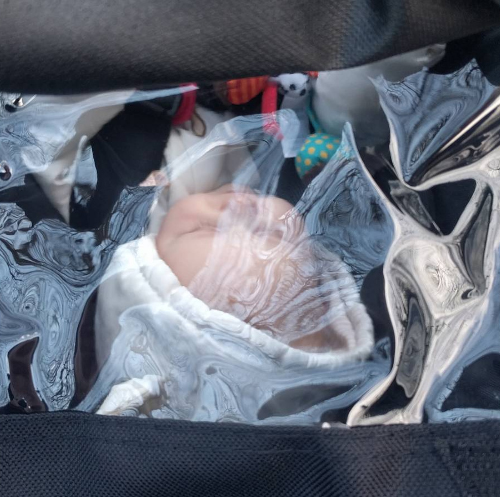 I had been lucky enough to win a Valentine's Photoshoot on Facebook and so a couple of weeks into March we persuaded my friend Laura to push Oscar around Harlestone Firs in his buggy so that Dan and I could have some nice pictures taken.  There aren't any photos of just Dan and I together from our wedding that I really like, but Maxine at Do You Realise? photography was an amazing photographer and she captured some lovely photographs for us to get printed.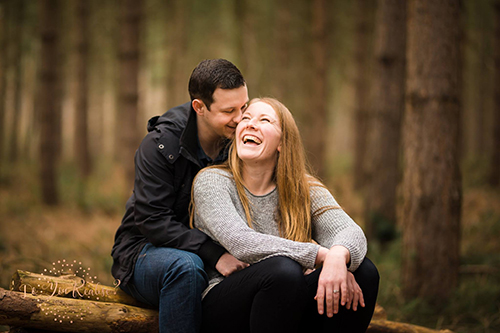 Dan and I sat down one weekend (after many many afternoons of talking about it) and worked out our living costs, realising that I would be able to leave my job as a teacher in order to bring Oscar up myself, rather than put him into a nursery full time, – and so I handed my notice in at school.
April:
I had entered The South Downs Way 50 before Oscar had even been born.  I wanted a big challenge to work towards as part of my return to running post-baby, and I definitely got that with running 50 miles!  Going into the race I definitely hadn't completed enough training, but I was so, so ecstatic to finish well within the cut off times, and as strongly as I did despite having to stop on route to pump(!)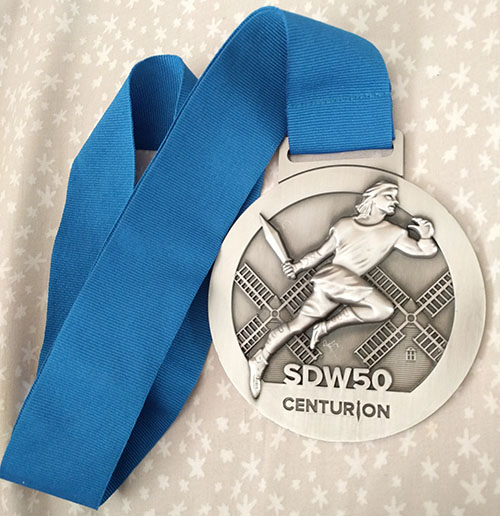 The following weekend, Dan, Oscar and I headed to Shropshire for a well-deserved weekend away in a lovely little cottage with friends.  We even managed to fit in some parkrun tourism at Ludlow parkrun whilst we were there!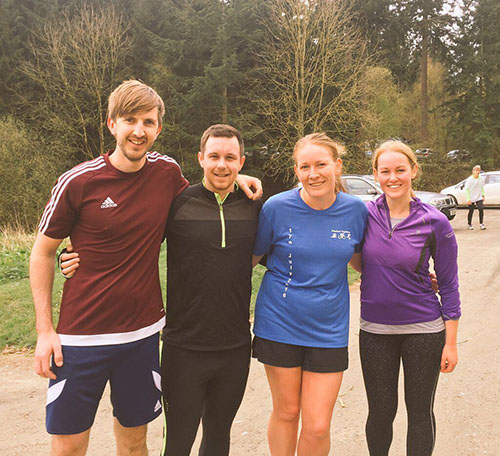 I made it down to London for my annual trip with friends to cheer runners along the marathon route.
Then I had my first weekend away from Oscar when I ran the Pembrokeshire marathon at the end of the month.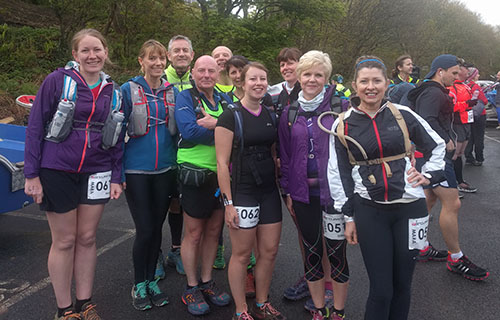 May:
May was a good month running-wise.  I ran the Silverstone 10k in a quicker-than-hoped time, the Rugby 6 to a new PB and Corby 5 in a course PB, all as part of the East Midlands Grand Prix series.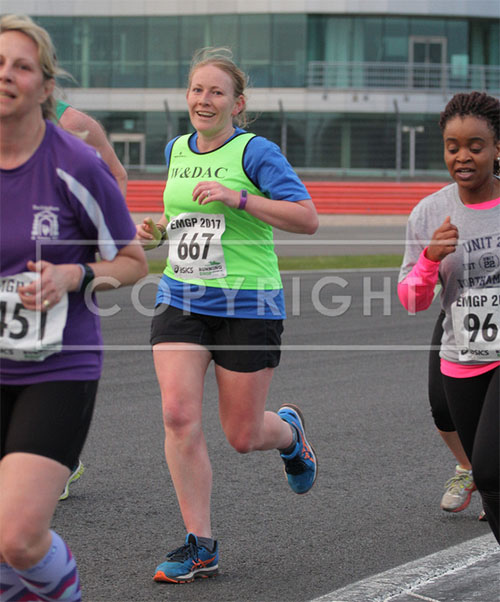 May was also the month where I returned to work full time (albeit only for one day before the start of the half term holiday).
June:
I ran Shires and Spires 35m for the fourth time at the start of this month, but as I returned to work the following day I never got round to writing a recap of the event.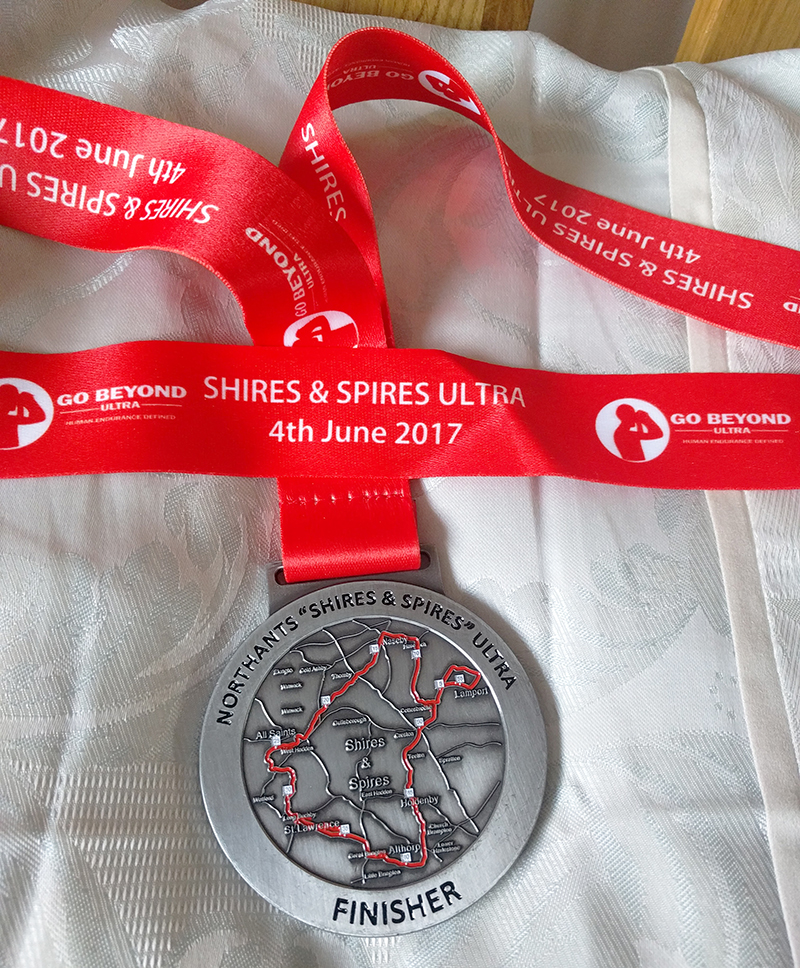 Oscar officially started nursery when I returned to school after the half term break.  Dan had my first week back booked as holiday from work in case there were any problems with Oscar in nursery during the day time, but all seemed to go well.  Dan spent most of the week making much-needed improvements on our house to ready it for guests we had staying in the Summer.
I had my name in print in Your Fitness magazine this month.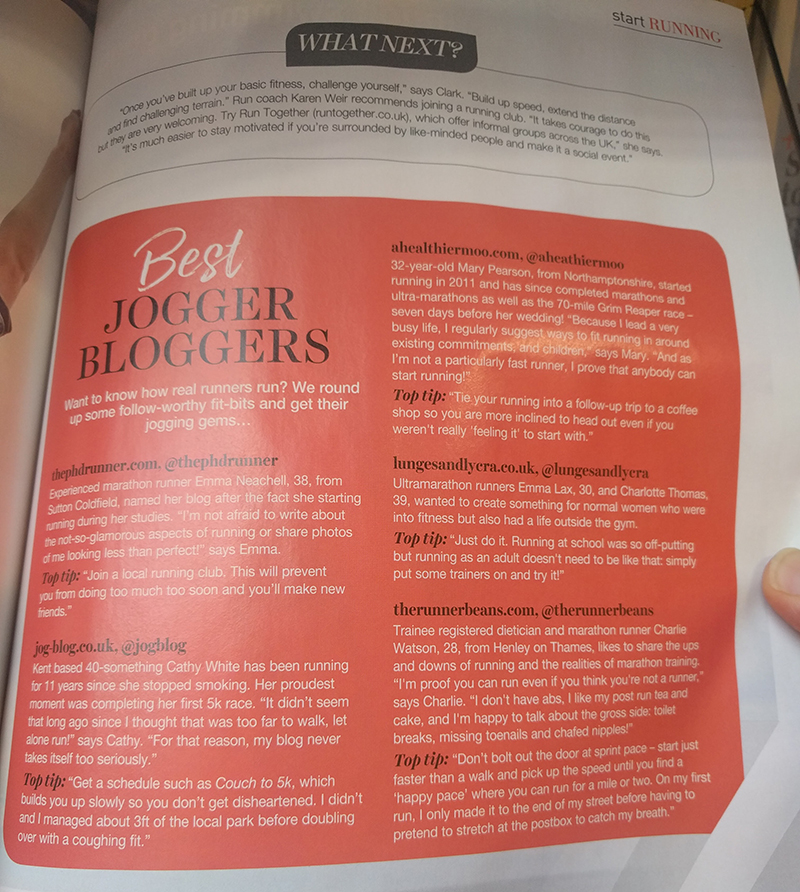 I ran the remaining races of the EMGP series.  The Harborough 5, Weedon 10k (to a course PB) and then Milton Keynes 10k to a full on new PB!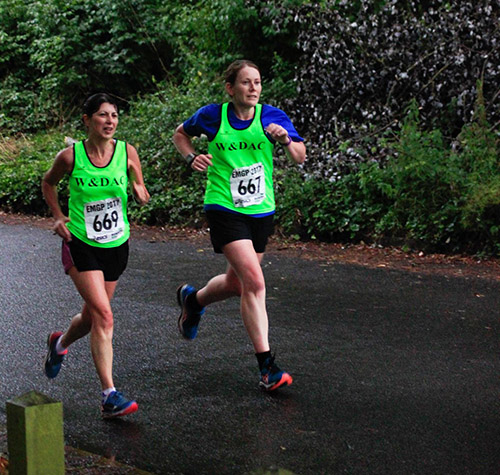 I headed over with Oscar in his buggy to photograph our club runners at the Colworth Marathon Challenge on the Friday evening.  I'm hoping to be able to run the full three-day event again in 2018.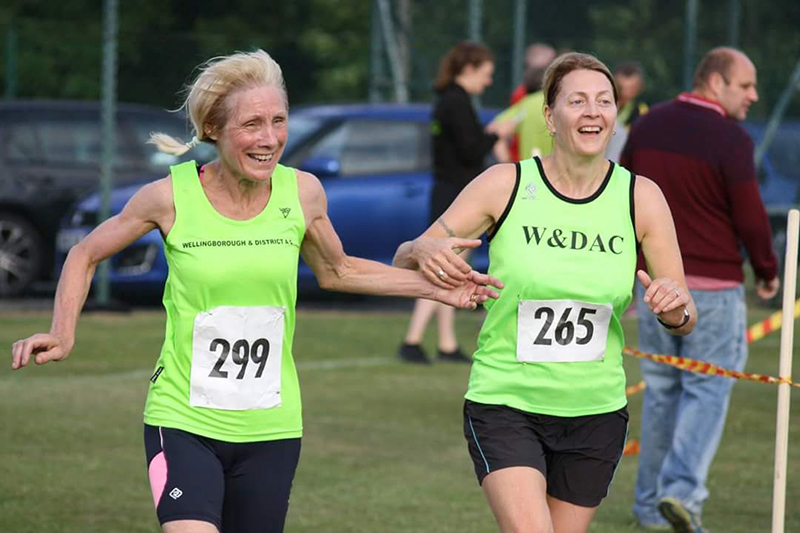 July:
I managed to type up (over several days!) a new Day-in-the-life post of a full-time-working-training-for-a-marathon-new-Mum.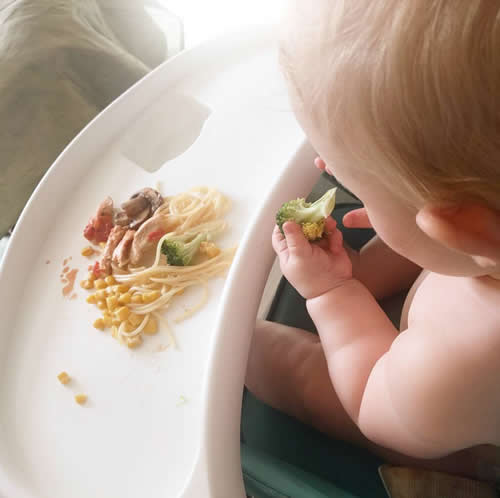 I had great fun swinging round the treetops for a friend's hen do at Woburn, followed by some tasty afternoon tea.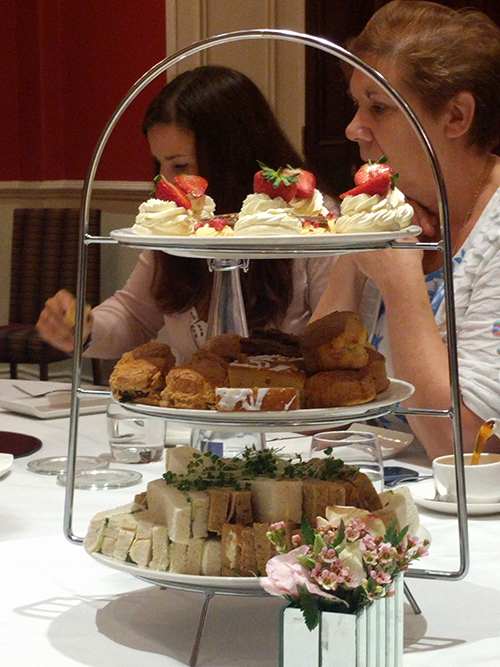 I managed to gain a new 5 mile PB at our club annual pre-Welly 5 BBQ run, and then marshaled for the actual Welly 5 the following weekend.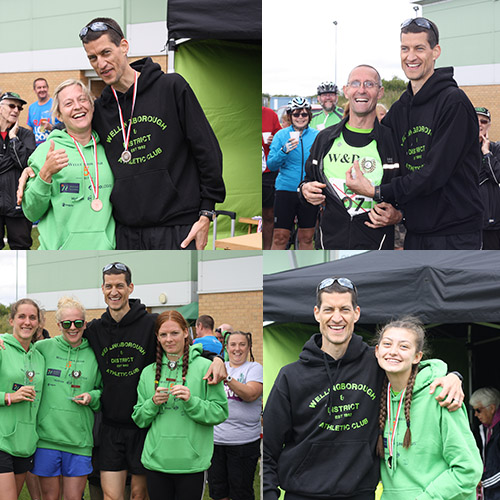 At some point during the month of July, I was persuaded to stay on an extra month in September at school, due to lack of staff.  So luckily, I never had to give a leaving speech at the end of year assembly!  😉
August:
We attended our first wedding as a family of three, where Dan was also an usher.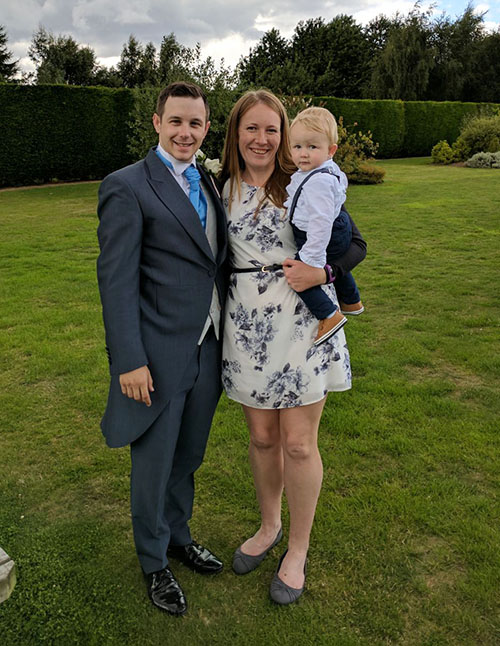 And I was outraged when somebody threw eggs at me from a car window whilst I was out on a run in Norfolk. 

We had a really busy August in fact.  I had been travelling back to Norfolk to spend time with my parents each week from February-time as neither of them were very well.  Somehow we managed to fit in a wedding in Birmingham, a first birthday party in Norwich and another first birthday party in Huddersfield over the Summer.  The two birthday parties even fell on the same weekend!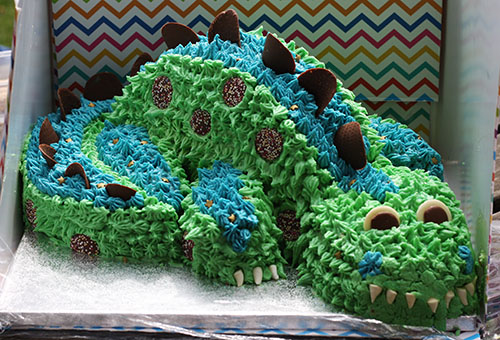 We did manage to escape to Rutland Water for a few days for our third wedding anniversary though which was nice.
And we finally had carpet laid in all the upstairs rooms and on the stairs and landing.  I was so excited to finally see carpet down on the floor!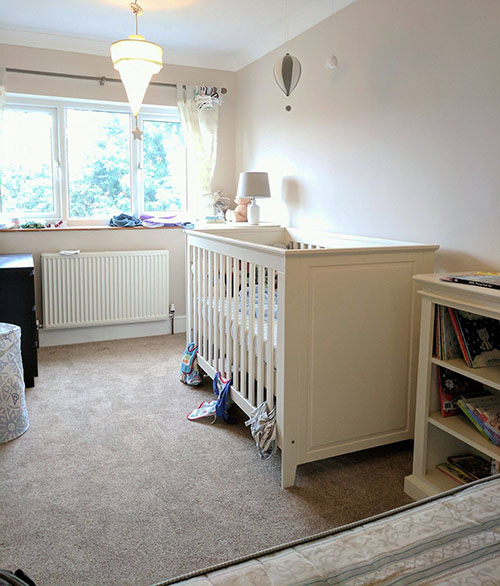 September:
As I was looking back through my blog posts just now I realised that I didn't blog at all during September!  It was a very busy time though.  Working as a teacher during the month of September is very different to the month of June, when half the students have already finished for the year and lots of kids are out on school trips.  Not only was I super busy with work this month but we had something planned in the calendar for every single weekend.
The first weekend was spent marshaling at Northampton half marathon where I was once again sector lead of the Great Houghton section.  For the fourth year I believe now?
The second weekend, I went to my friend Steph's wedding.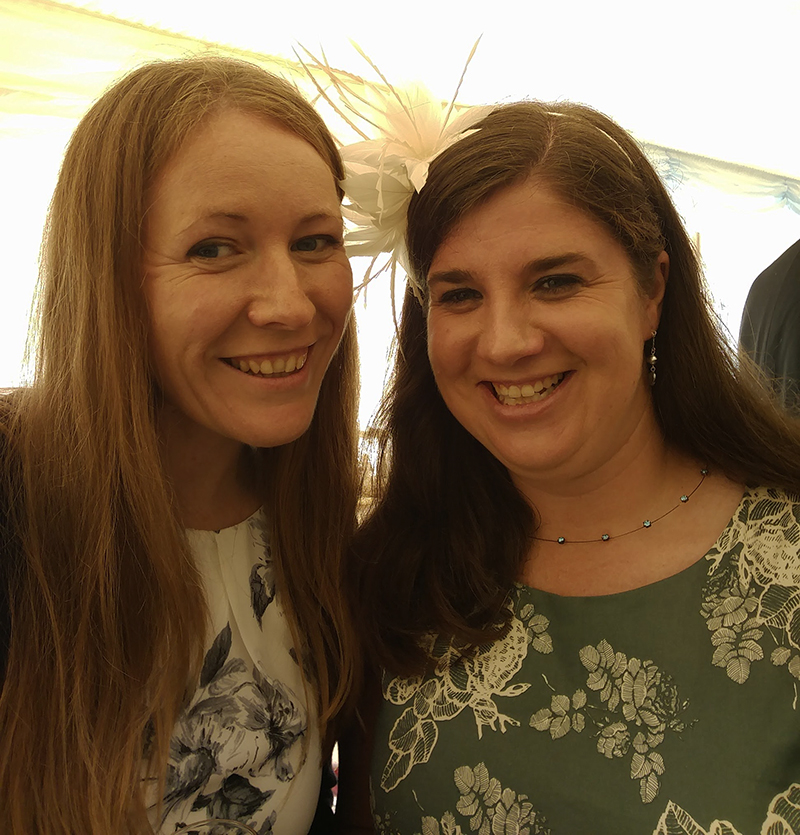 She had the best photo challenge, which Laura and I totally smashed and won!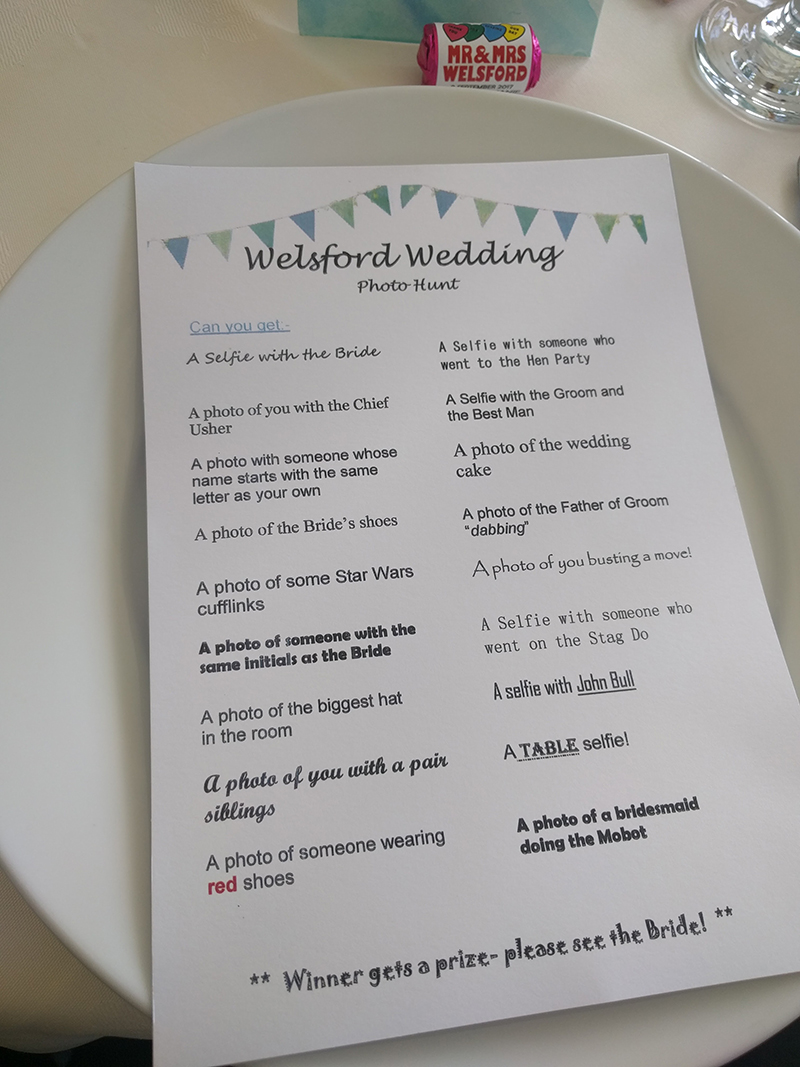 Our new sofas arrived!  The first time I have ever bought brand new sofas before and it was rather exciting!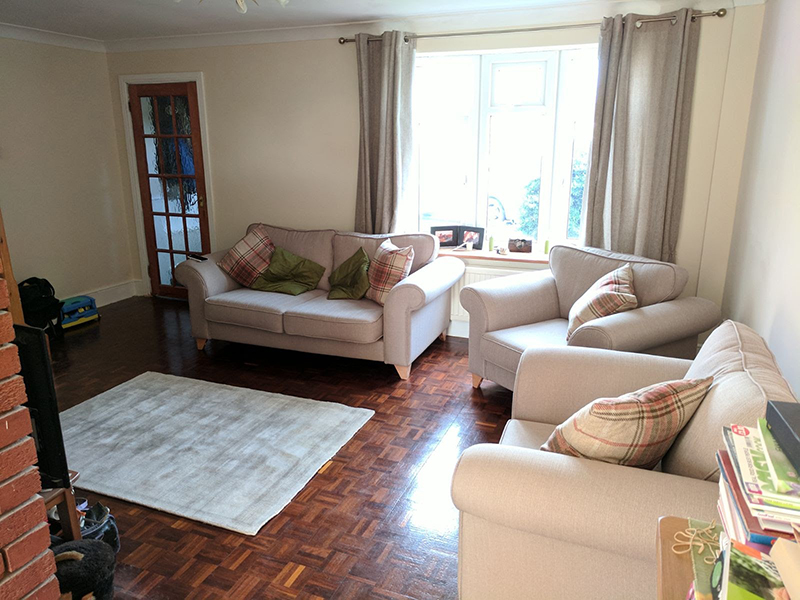 I headed back to Norfolk to take part in the Round Norfolk Relay event.  Our club managed to find two teams of runners and crew and it was an awesome weekend that I can't wait to take part in again next year!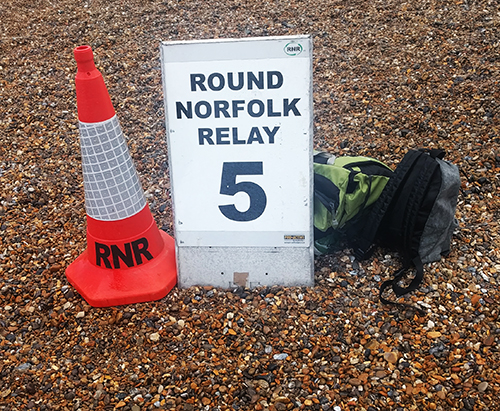 The evening after the RNR I had returned home to get some school work sorted out ready for work the following week.  The following day my Dad rang to say that my Mum had been admitted into hospital.  At this point (four years since being diagnosed with terminal cancer) this was no longer an uncommon occurrence and I asked Dad to keep me updated, saying that I would return the following weekend to visit her in hospital, or at home again, as she had so often ended up in hospital for just a couple of days at a time.
I finished school at 3pm on the Wednesday and it was only a matter of seconds after the final bell had gone when my Dad rang my mobile to say that I needed to get over to Norwich then.  That Mum was really bad this time and that doctors had given her just 48 hours.  After a call to Dan so that he could arrange to leave work early to pick up Oscar from nursery that evening I rushed off over to Norwich hospital and it wasn't a very nice visit at all.  It was rather scary in fact.
I was supposed to be running Ealing half marathon the following weekend, but obviously this did not happen, and instead I spent the weekend at the Norfolk and Norwich hospital, as well as visiting several nights after work during the week.
It all ended up being a bit much and by the end of the month I had made myself very ill from the night feeds, school work, housework and constant travelling.  I spent the last two days of term laying in bed feeling pretty useless.  Made even more miserable due to the fact that I had really been looking forward to the Decathlon ambassador event I had been invited to but which now had to miss, and the fact that I was so poorly I couldn't even hold Oscar on his first birthday.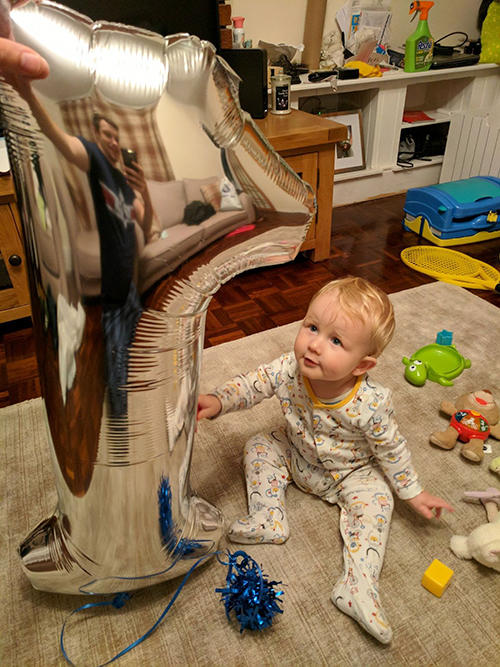 October:
We held a birthday party for him the weekend after his birthday and had him Christened.  I was able to get up and about and put a face on, but I still wasn't very well at all.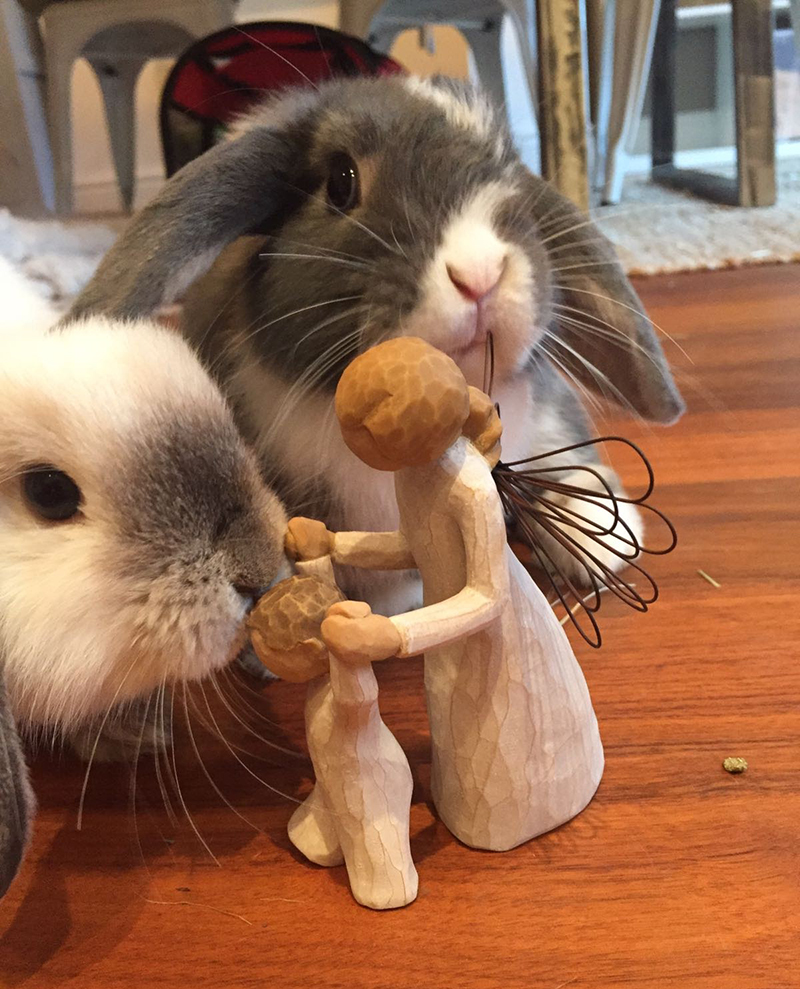 Mabel and Martha, checking out the Godmother gift their Mum was given!  (They have their own Instagram here if you want to check it out!)
As I had finished school by October I was then travelling back to Norfolk for four days a week.  After two weeks in hospital, at my Mum's request, the doctors let her return home where she remained in a hospital bed in the lounge for the remaining weeks.  I usually headed back Monday afternoon-Tuesday, Thursday and Saturday.  A minimum of 12 extra hours in the car each week but often more than this due to roadworks and bad traffic.
Several of my visits were spent taking my parents' dog Blue out for long walks and helping out with the shopping and cooking.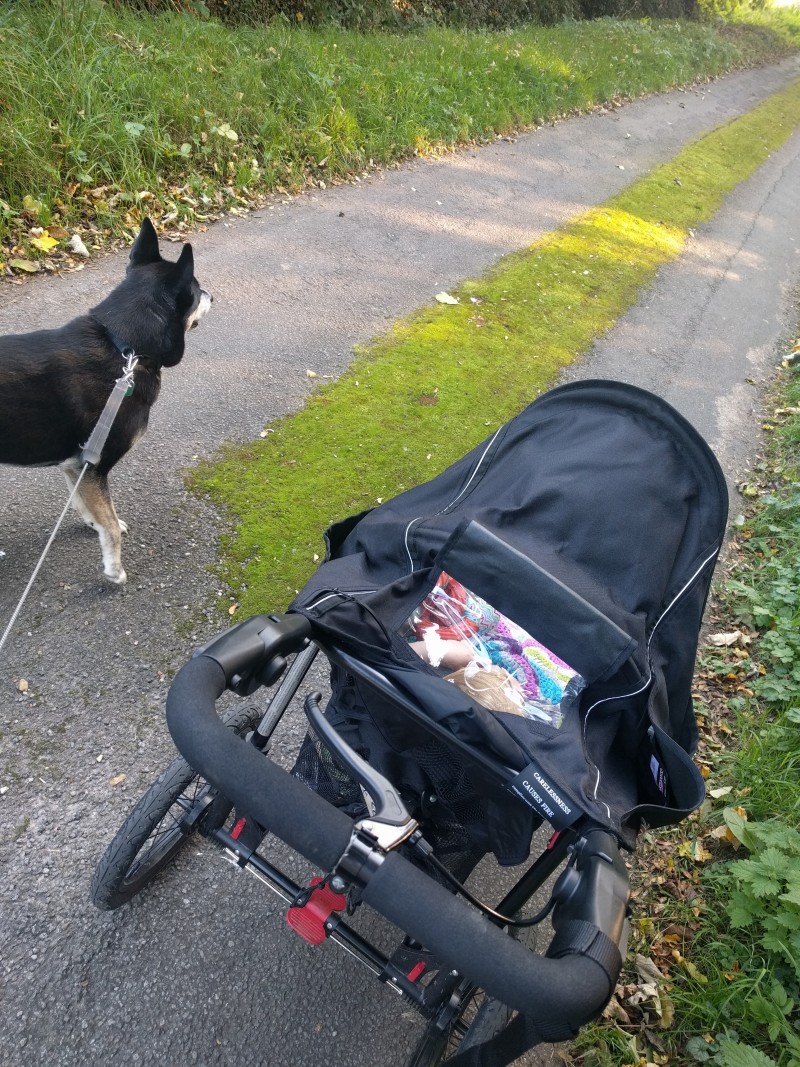 I was lucky enough to be chosen as an ambassador for Milton Keynes Marathon this month, which takes place in May 2018.  I can't wait to run the marathon for the fourth time!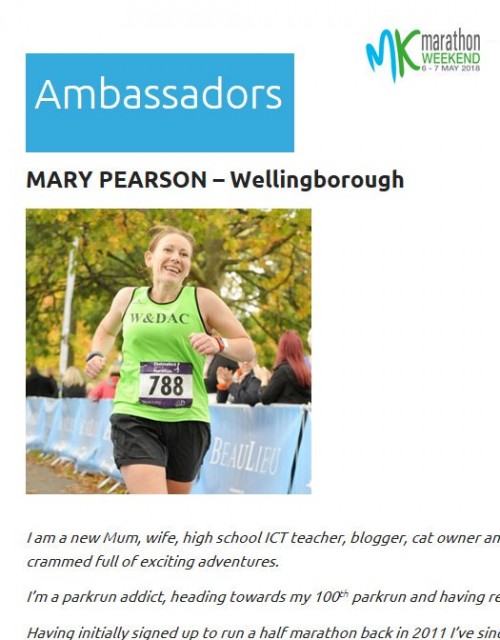 I had planned to target and run Chelmsford marathon in October for a sub 4h 30m, but this obviously went out of the window as I hadn't been able to get enough miles in during the build up to race day and I had been suffering with a bad back for several weeks.  It was probably the toughest marathon I've run by the end of the race, and I've run several off-road events!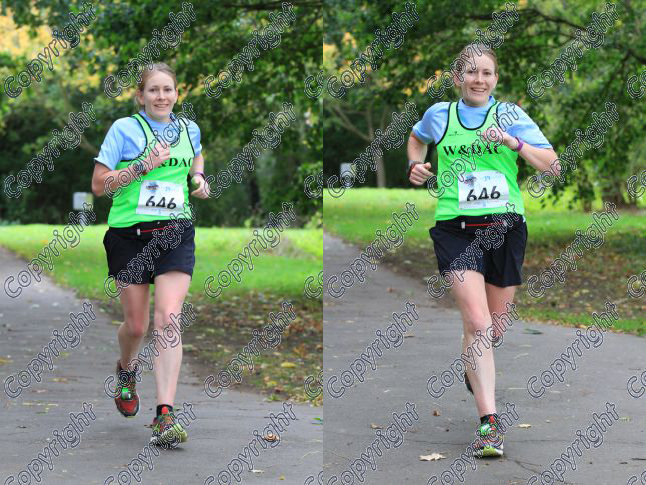 November:
November went by in a bit of a blur.  I headed to Gower with friends for the EnduranceLife Coastal Marathon as per usual, and the break was very much needed.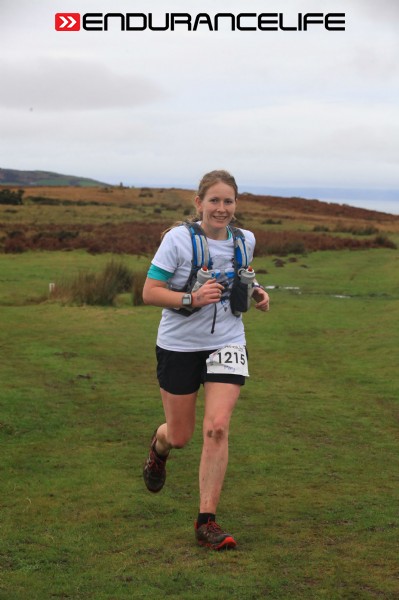 The following week Dan was working away in Dublin, but I barely knew about it as I was hardly home anyway.
The last Wednesday of the month when I was visiting Mum Oscar bent down to kiss her for the first time and happily did his usual wave and "Bye bye" babble to her as we left.  She had been a little confused during our visit but we'd had several chats throughout the day.  That was the last time we spoke.
I visited the following Saturday for several hours but she was asleep the whole time, and when I rang Dan to say that I had finished running the Dunstable XC the following morning he told me that my Dad had been on the phone not long earlier to let him know that my Mum had just died.
Dan's Nan had died hours earlier following a heart attack and we lost another family member to cancer later that week.  (A third to cancer in 2017 just yesterday.)
December:
After putting it off for the past few years I ran Bedford half marathon and was pleasantly surprised at my time considering how inconsistent my training had been in the build up to the race.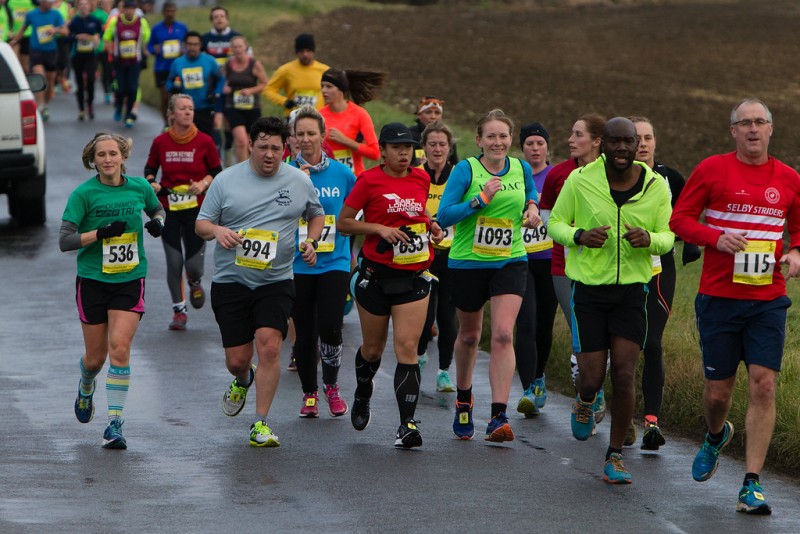 Most of the week had been working with my Dad on preparations for my Mum's funeral.  She had been very definite about what she wanted, but there was a lot we were unable to put into place until she died.
The day after the funeral I began a new job working nightshifts at a large Tesco supermarket.  It's not a forever thing, but the extra money will be handy to restock savings.
My brother and Dad came up to mine for a visit one evening so that I could attend the annual Running Club Christmas awards ceremony.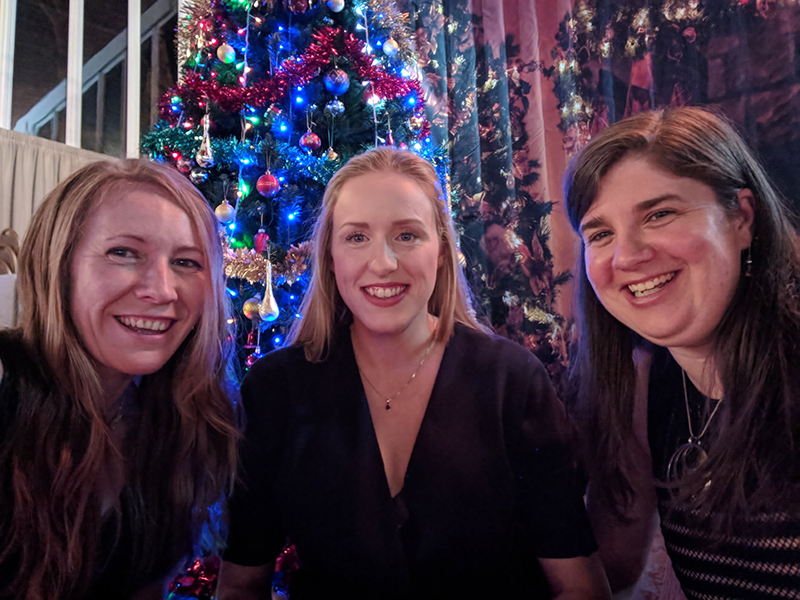 I came home marginally cleaner following the annual Christmas Eve run this year.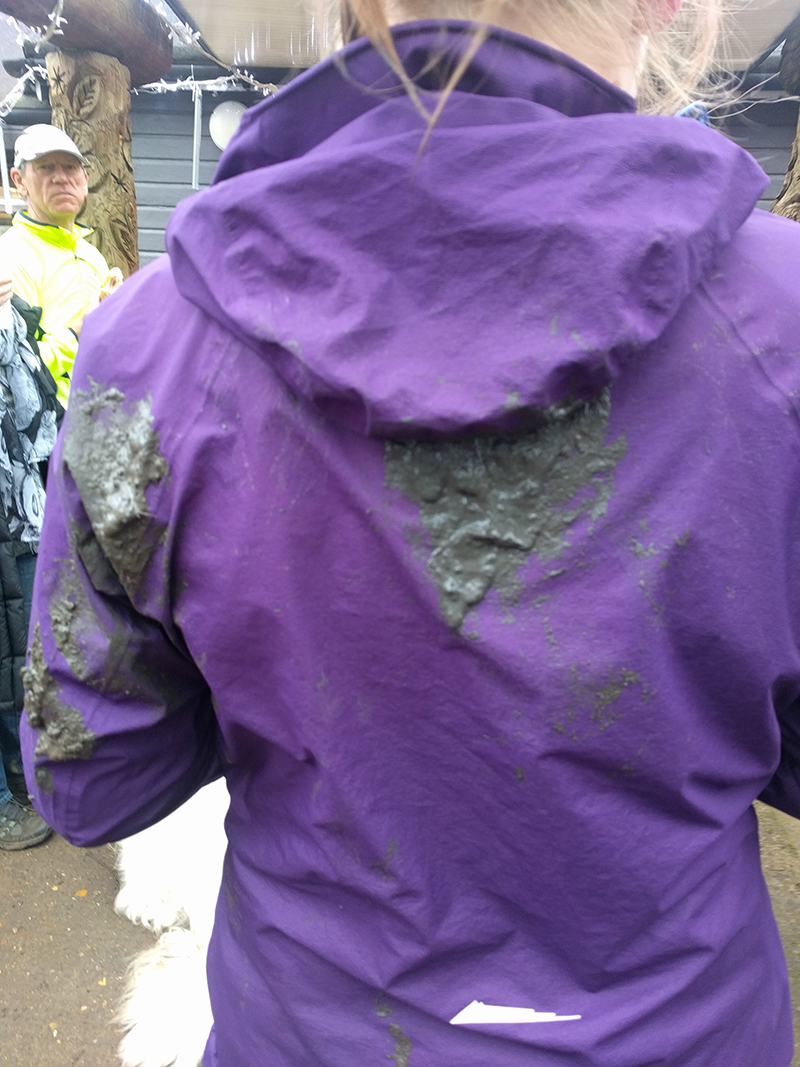 And then spent Christmas day in Norfolk with my side of the family.
2013 round up * 2014 round up * 2015 round up * 2016 round up
How would you sum up your 2017?
What have you been up to this year?