The Squeaky Bone Relay is an event really well attended by members of my running club every year.
Hosted by Olney Runners, the event is a four-person off-road relay with each legs of either 3.5 or 2.3miles and usually falls in October, having always clashed with other things in my calendar, so I've never been able to attend before.
This year though for whatever reason, the race fell at the end of September and I was so excited to be running on a team with Tom, Steph and Laura.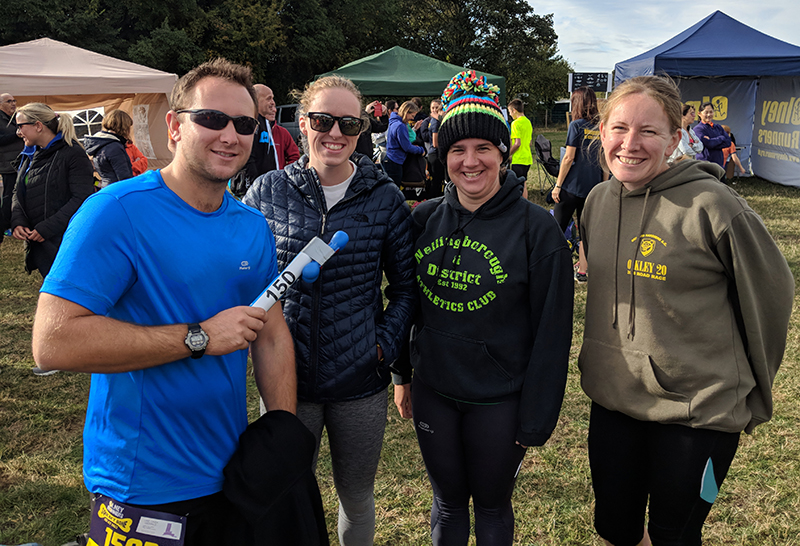 It was my first hard run back after running the Robin Hood 100 two weeks earlier, and only my fourth run since I'd finished the ultra.  I wasn't too hopeful of winning any prizes and made sure the others weren't expecting miracles too!
Although I was the Team Captain for our group, having signed us up for the 3.5 mile option online, I hadn't realised the order I put us onto the system when signing up was the order we would be required to run in on the day, otherwise I would never have put myself first!  The running order went Me, Tom, Steph and then Laura last.  At least my leg would be over and done with and then I would be able to enjoy a hot drink when I finished while I waited for the others to run their section!
We arrived fairly early in order to collect our race numbers and baton, complete with squeaky dog toy attached!  It was rather chilly hanging around in the shade at the start, although I was glad that I'd chosen to wear a t-shirt when we did begin running as the sun out on the course made it really warm out there.
We started with a bang, and my first mile came in at 8m 47s.  The elevation was fairly flat for the majority of the course, with just a small rutted section at the beginning alongside the car parking area.  The route was a nice one though – around the edges of fields and through a small wood.  Other than that first small section, the rest of the ground was fairly solid without any uneven bits which made for easy going.
My second mile remained under 9mm pace, but I started to slow down after that.  Although physically I seemed to have recovered from the ultra I had found during my runs since that my body wouldn't maintain the same pace for as long as it had been doing prior to running the 100 and I would tire as a run went on.
At the end of each leg, the course ran onto the edge of the field where the handover took place and up to the top of the field before turning, running underneath the finish gantry and towards the next member of your team for handover.  I did have a small panic when I couldn't spot Tom on my approach but as I crossed the line ready for handover, he seemed to step across from nowhere to grab the baton (with squeaky bone attached!) from me and continue the relay for leg number two.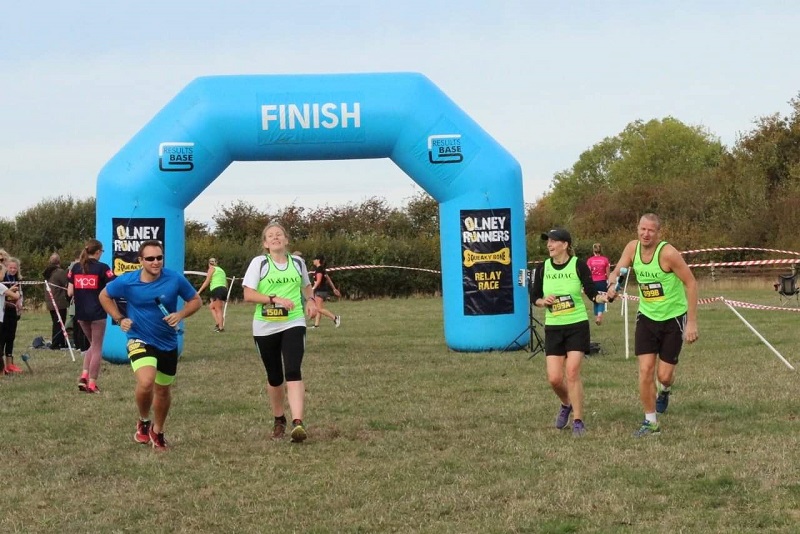 (Photo shared on the Squeaky Bone Relay Facebook page).
We were the Wellingborough Warriors and ended up coming 65th out of 122 teams running the 3.5 mile distance.  (Which we all clocked at around 3.6 miles(!) )
Our splits were as follows:
Me – 33m 18s (65th pos)
Tom – 30m 13s (66th pos)
Steph – 29m 41s (59th pos)
Laura – 30m 42s (65th pos)
Which gave us a total time of 2h 3m 54s.  We'd estimated that we would probably take about 2 hours to complete the event, so we weren't far off our estimation!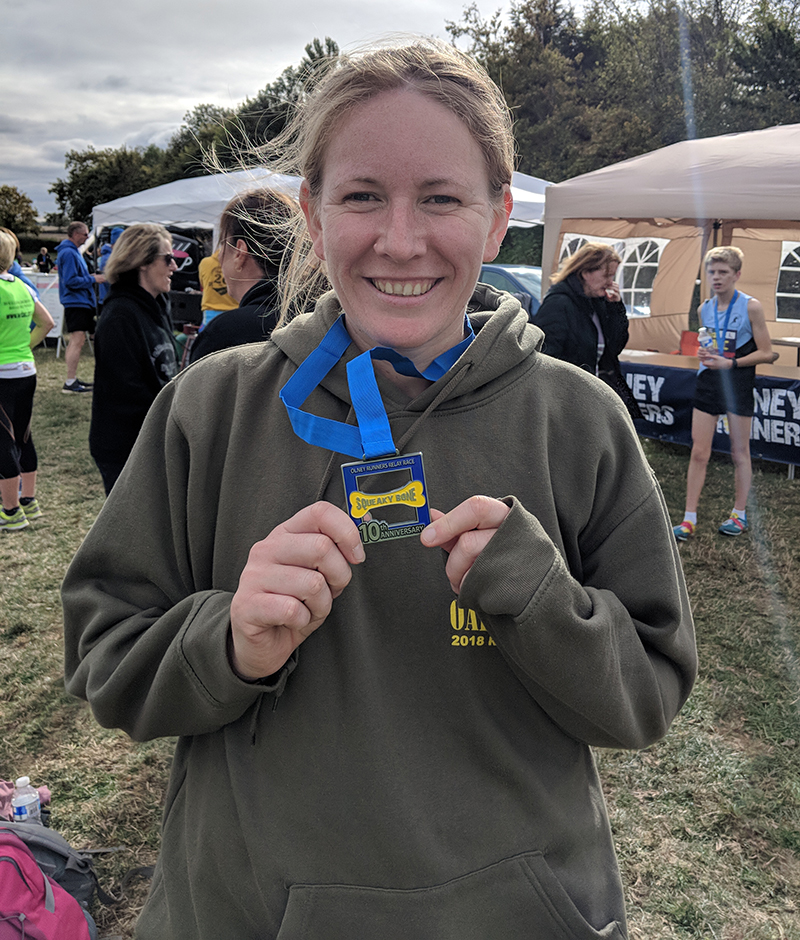 I really enjoyed the atmosphere of the event and will definitely be looking to give it another go again next year!
Have you run any relay events before?