I ran my first parkrun back in 2013…Saturday of last week was my 120th parkrun!
I've fallen behind with blogging rather just lately.  I've been busy running, working (I've somehow now also added 'paper-round' to my list of never ending jobs that I take on), visiting my Dad, making house improvements, Mumming, overpaying the mortgage and trying to fit in seeing Dan at some point too.  It's a hard battle with all of these balls up in the air and I feel like blogging has slipped somewhat whilst I try to keep everything else afloat.  I did say to Dan the other night that I feel like I'm just mashing my way through everything I have to do at the moment apart from Mumming.  I feel like I'm Mumming exactly the way I wanted and needed to with Oscar, and really, that is what matters most.
It bugs me that I haven't kept up to date with tracking my parkruns on my blog over the past few months though, as I'd tracked the best part of 100 runs before that!  So I'll try to just jot down a few words about the Saturday mornings I've missed posting about and then hopefully stay on top of my log once more.
Parkrun has become a lovely family event for Dan, Oscar and I each weekend.  Dan and I take it in turns to run with the buggy, and Oscar has loved visiting all the playparks afterwards as well!
Event: Sixfields Upton
Number: 108
Date: 2nd June 2018
Official time: 31:41
Position: 157/232
Gender position: 46/90
Age category position: 7/12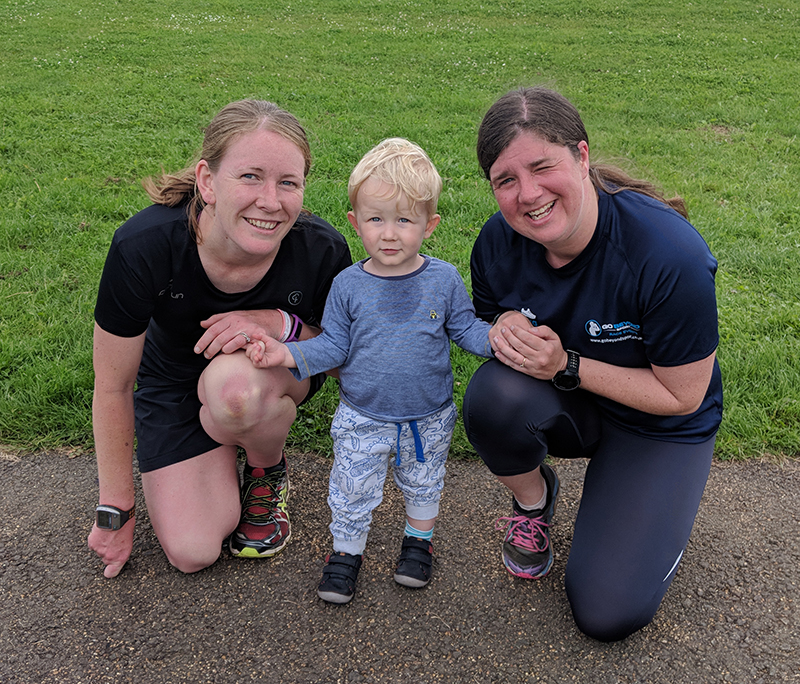 This was my first parkrun wearing my 100 top, as delivery of the parkrun milestones t-shirts had been delayed for so long.  I jogged round pushing Oscar in the buggy and chatting to Laura.  We stopped to pose for photos at the finish and as Dan was taking our picture, he got a phone call from John.  We were due to visit our friends John and Lynn the following day so assumed he was just checking in with arrangements.  However, we weren't due to visit them the following day…we were supposed to be visiting them THAT day and both Dan and I had read the WhatsApp message wrong!  Cue a mad dash back home to shower, pack a bag for Oscar and drive over to Nottingham!  One hour later…!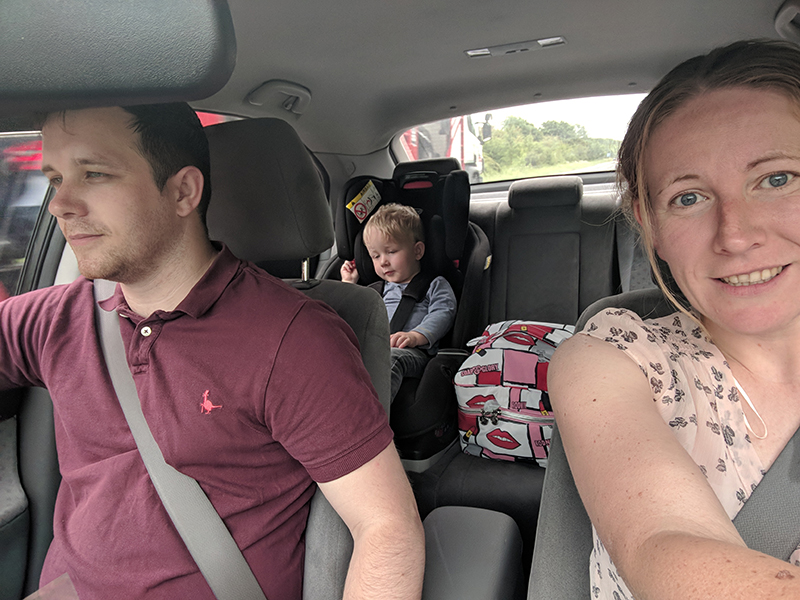 Event: Sixfields Upton
Number: 109
Date: 30th June 2018
Official time: 28:09
Position: 103/257
Gender position: 22/145
Age category position: 4/17
Dan offered to run with the buggy so for the first time I was able to run the Sixfields Upton course child free!
Three weeks out from my 100 mile attempt I had no idea how to pace for a 5k and so set off too hard, with my first mile in 8:27 (almost PB pace). Miles two and three were much slower, and I finished with an 8:58mm average pace. It felt good to try and inject a bit of speed back into my legs after the previous few weeks though.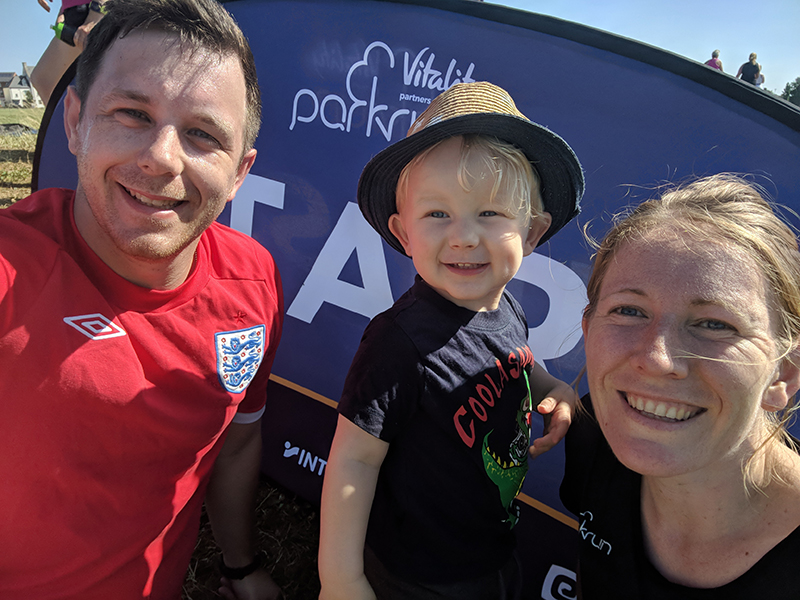 It was lovely to hang out with these guys in the sun too!
Event: Sixfields Upton
Number: 110
Date: 28th July 2018
Official time: 31:45
Position: 139/223
Gender position: 39/92
Age category position: 8/14
This one was super windy!  (Just check out our hair in the picture we took at the end!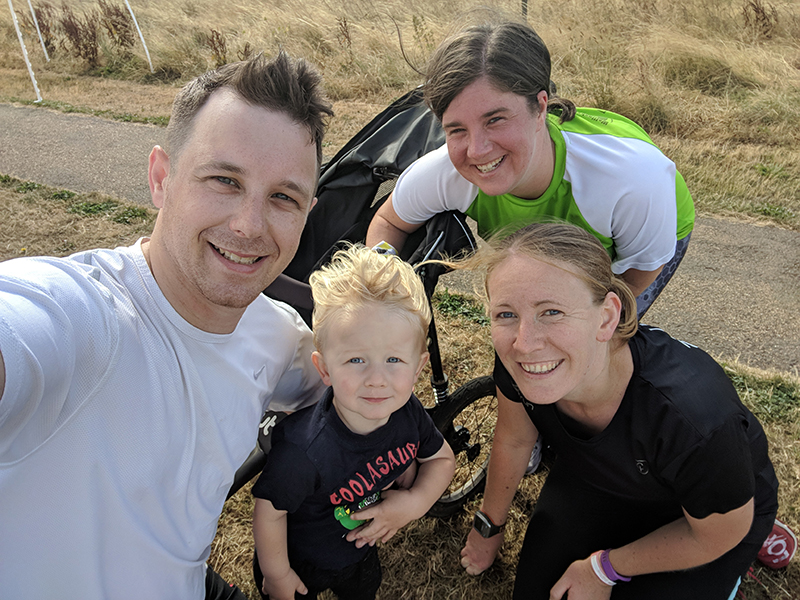 This was peak Summer heatwave time, and it was the first proper breeze we'd had in weeks.  I took the opportunity to run 5k from home before Dan, Oscar and I headed over to Northampton where we met Laura for the parkrun.  I ran the first half pushing Oscar in the buggy and then Laura took over running the second half.  The 'Glory Lap' as another parkrunner told her at the finish!
Event: Sixfields Upton
Number: 111
Date: 11th August 2018
Official time: 30:56
Position: 162/280
Gender position: 47/124
Age category position: 13/19
Back to being super sunny again this week.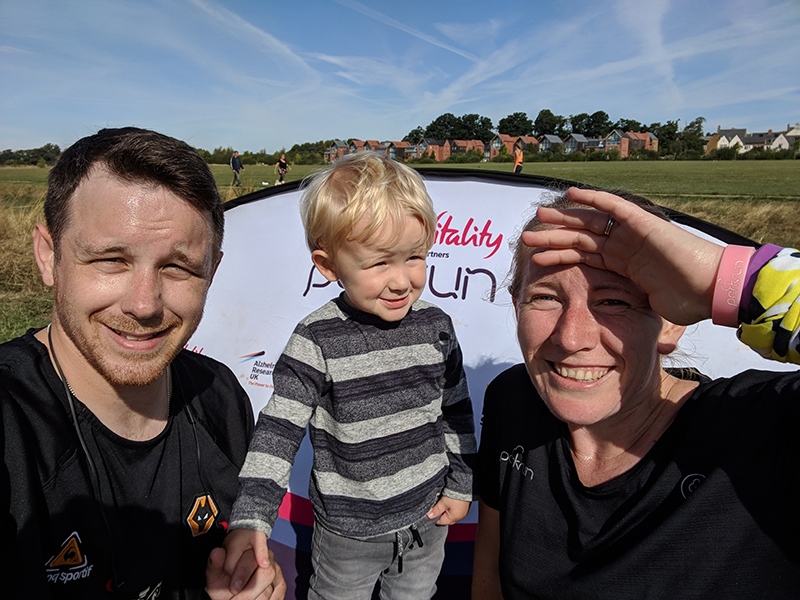 Also, I spotted this sign displaying the parkrun course at the end.  What a great idea!  I've not seen this anywhere else before.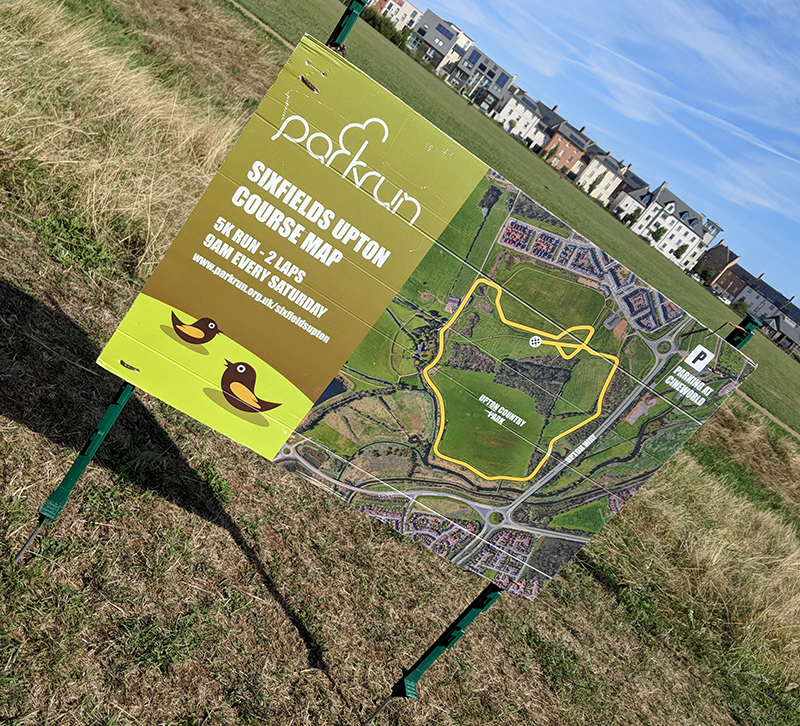 Event: Sixfields Upton
Number: 112
Date: 18th August 2018
Official time: 28:34
Position: 102/251
Gender position: 19/110
Age category position: 7/16
Dan's birthday was on the 17th August, the day before, and we were having a few people round for lunch and drinks, so he stayed home with Oscar to finish tidying the house and make sure we got round in time.  I then went off to Sixfields where I met up with Laura and we jogged round parkrun having a chat!  No pictures this week.
Event: Kettering
Number: 113
Date: 25th August 2018
Official time: 32:08
Position: 235/338
Gender position: 68/134
Age category position: 8/15
Another jog round parkrun.  This time I had Oscar in the buggy and decided to go for a sprint finish for the last quarter of a mile.  Kettering is a great course in that you have a really long hill to finish on!
Event: Kettering
Number: 114
Date: 1st September 2018
Official time: 31:48
Position: 216/370
Gender position: 54/150
Age category position: 8/17
I ran Kettering with Oscar in the buggy again.  I offered to let Dan run buggy-free as I was going to head out on a trail run with friends that afternoon, so wanted my legs to stay fairly fresh.  Oscar insisted on singing approximately 78 verses of The Wheels on the Bus as we went round, which amused a number of people around us, and hopefully didn't drive them too mad!
Event: Sixfields Upton
Number: 115
Date: 8th September 2018
Official time: 35:01
Position: 253/311
Gender position: 96/141
Age category position: 17/22
Oscar was loaned 'Charlie Bear' from his nursery for the week. Charlie arrived with a book filled with photos and details of the adventures he'd already been on before arriving at the Pearson household. Charlie joined us at Sixfields Upton parkrun, then for a walk around Rushden Lakes to see the animals.  He even came back to Norfolk to stay with Oscar's Granddad for a few days!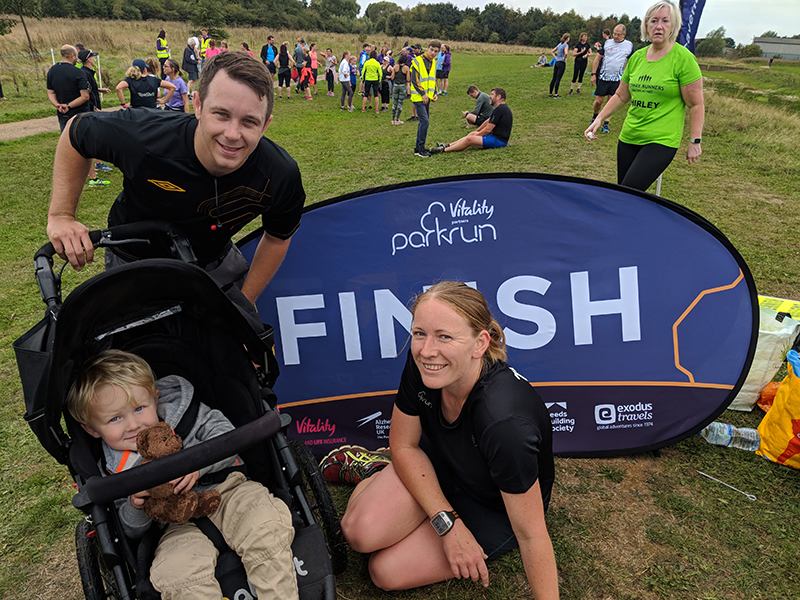 Laura ran the first little bit of the course with the buggy, but then we switched when we saw there was a photographer, as I thought they might produce some good shots of me and Oscar to use in his Charlie Bear book!  Here's the switch!…
Event: Great Denham
Number: 116
Date: 29th September 2018
Official time: 30:05
Position: 115/154
Gender position: 35/63
Age category position: 7/10
Great Denham was the first new course I'd run in ages.  It's great that I can run parkrun with Dan and Oscar each Saturday morning, but Dan doesn't feel the need to get up super early to partake in parkrun tourism, so I need to get my tourism fix on the weekends when Dan is away now!  Great Denham is a fairly new course which started up a few months ago in Bedford, so only about 30 minutes from us…close enough to convince Dan that we could go!  We met Laura and Steph there.  Steph sped off into the distance, and Dan was a fair way ahead too.  I started out running with the buggy but then Laura took over not far into the run and it was nice to be able to run at chatty pace and not worry about avoiding clipping the feet of other runners!
Great Denham is going to be a good course to aim for a PB this Winter.  It was a little congested at the start with narrow-ish paths but soon spread out and the course is so very flat with limited turns.
Forgot to get any pictures this week.
Event: Kettering
Number: 117
Date: 6th October 2018
Official time: 31:26
Position: 205/330
Gender position: 55/137
Age category position: 11/19
This was the Run Mummy Run takeover week at Kettering parkrun.  We picked a great week to take over…it absolutely tipped it down the entire time we were there!  I was soaked and freezing by the end!  I had volunteered to help with the pre-event set up and also the post-race close down.  This meant that I could be fairly useful on the day and still run the event!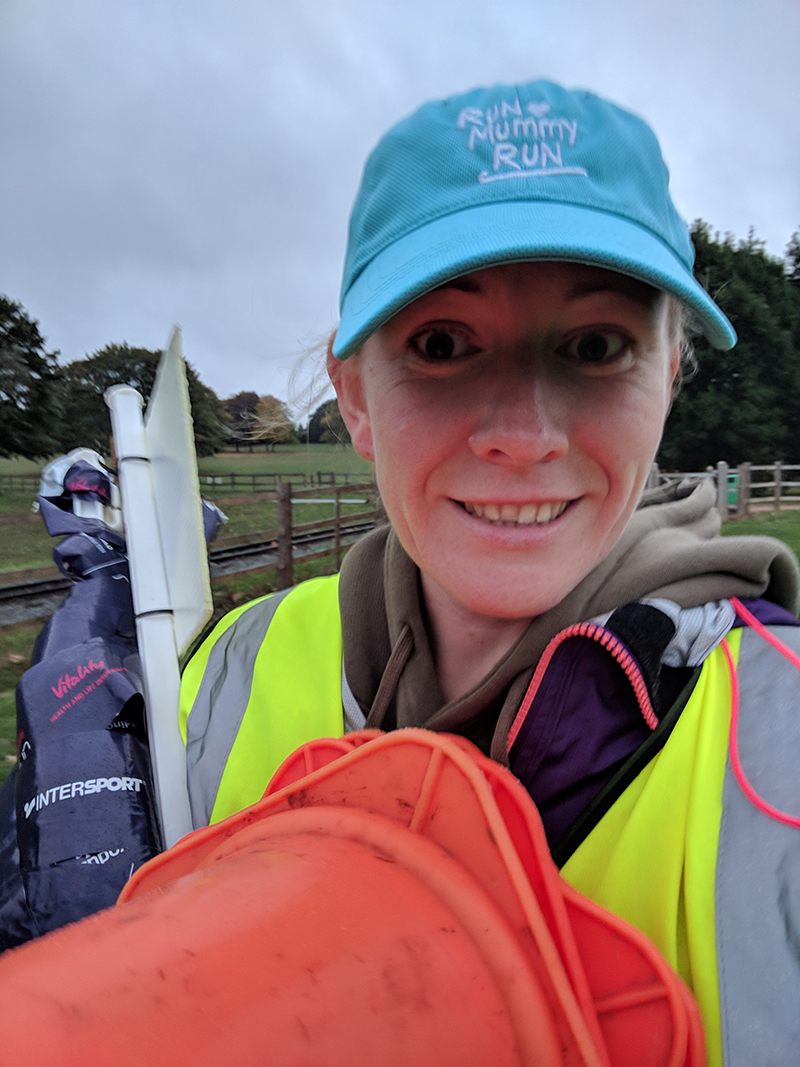 I got so confused with where I was meant to place some of the tape though, and I'm sure I got it in the wrong place, despite having run Kettering on numerous occasions!
It was lovely to meet so many other running Mums in the area and also help out my local parkrun at the same time.
Laura came to Kettering to run the event, although she probably regretted it afterwards, as we got SOAKED!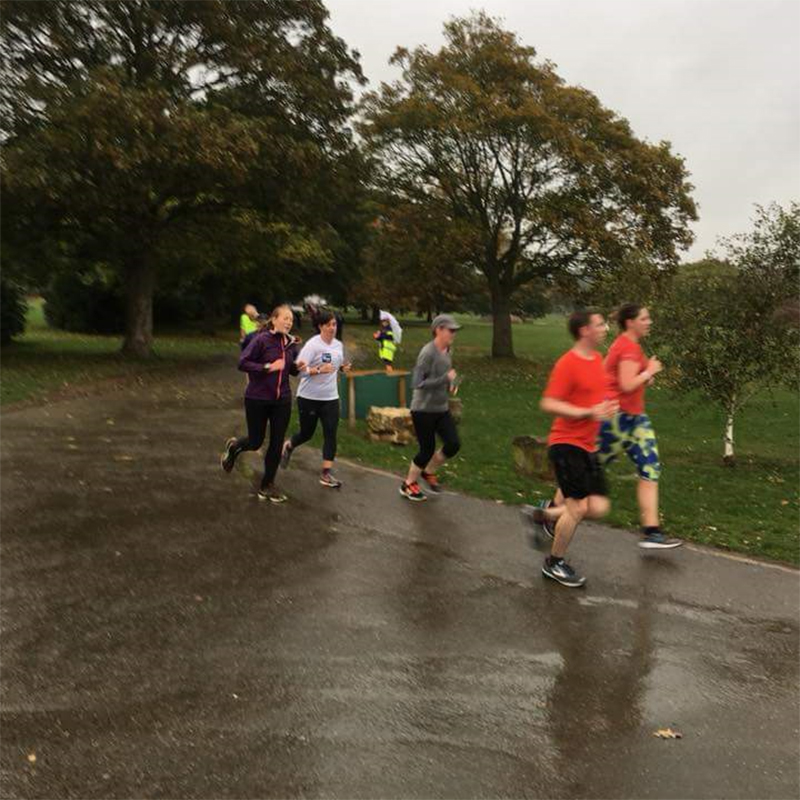 I now regularly run a 5k on a Tuesday night from the town I live in with a handful of the local RMR ladies and it's nice to not have to travel far (I can jog down to the meeting point) to get some miles in with like-minded people.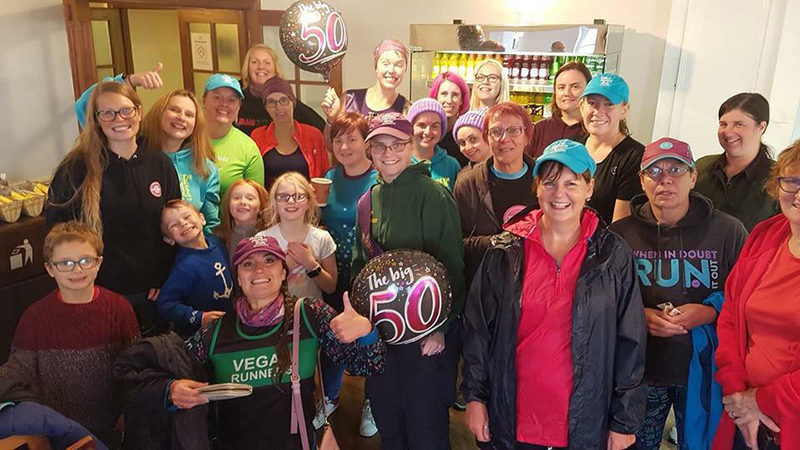 (I'm towards the right with a blue cap on)
Event: Bedford
Number: 118
Date: 13th October 2018
Official time: 29:28
Position: 230/414
Gender position: 41/157
Age category position: 4/13
This parkrun was a bit of a wake up call!
My parkrun PB is 26:35, set last Winter. I usually use parkrun as either a chance to catch up with friends or push Oscar round in his buggy. Today though, Dan offered to have Oscar so that I could run parkrun hard and set a benchmark to improve on as I try and regain a bit of speed following a long year of ultra training ready to go into marathon training at the start of next year.
I woke up not feeling 100%. I felt weak and a little lightheaded. It had only been four weeks since I ran the Robin Hood 100 and I'd run a limited amount since. With these factors in mind I intended on bringing along my heart rate monitor to try and pace myself properly. Only I forgot it, went out too hard, and ended up walking a couple of times during the 5k.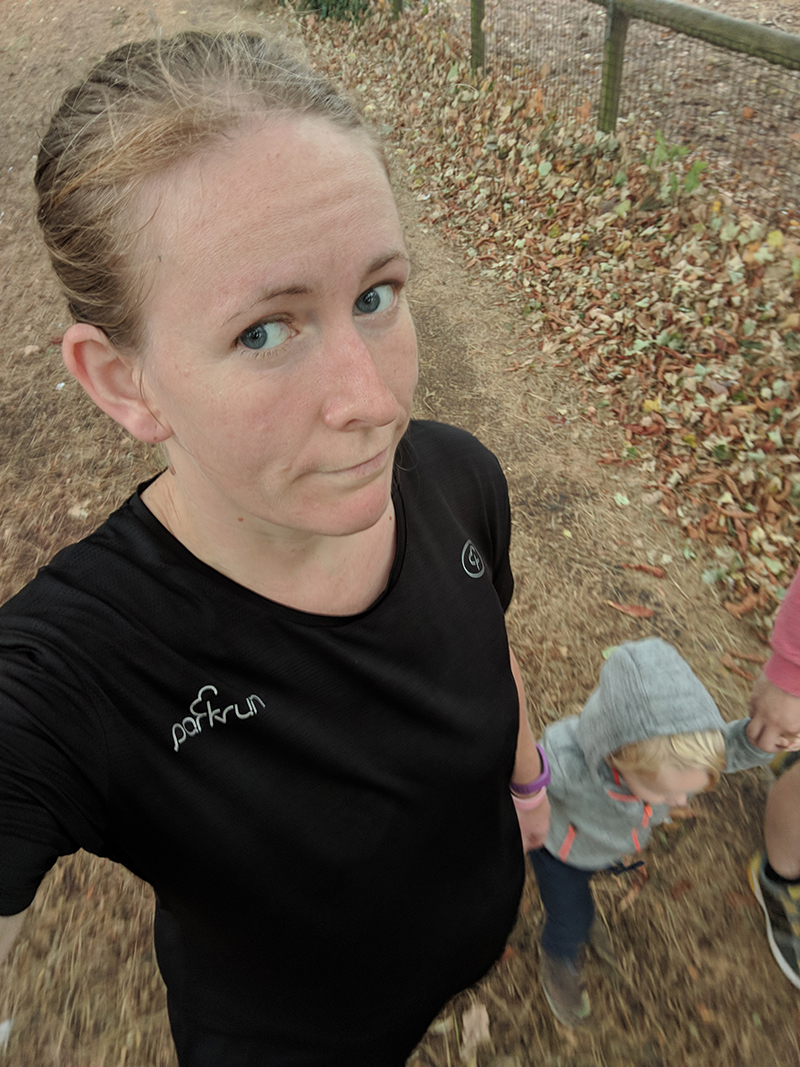 29:28. Ugh! Lots of work to be done to try and retrain my body and mind to work in sync again. At least it gave me lots of scope to improve over the next few months!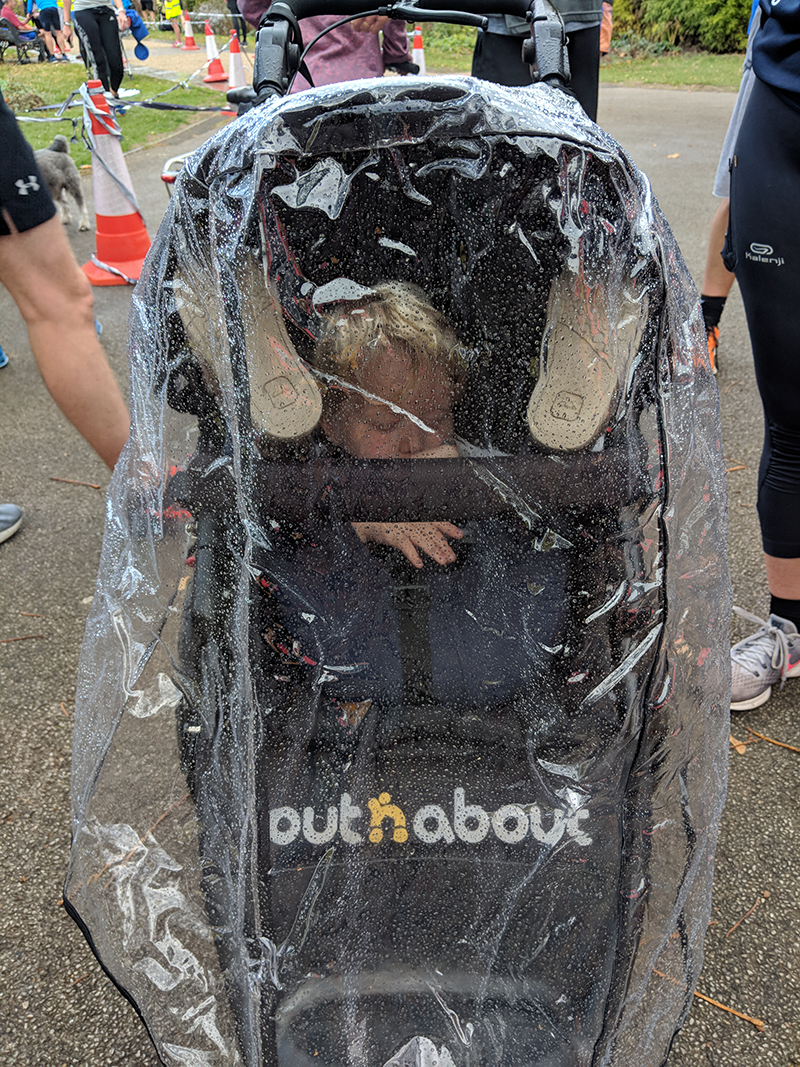 Oscar thoroughly enjoyed his buggy nap though!
Event: Kettering
Number: 119
Date: 3rd November 2018
Official time: 34:25
Position: 371/482
Gender position: 132/209
Age category position: 12/18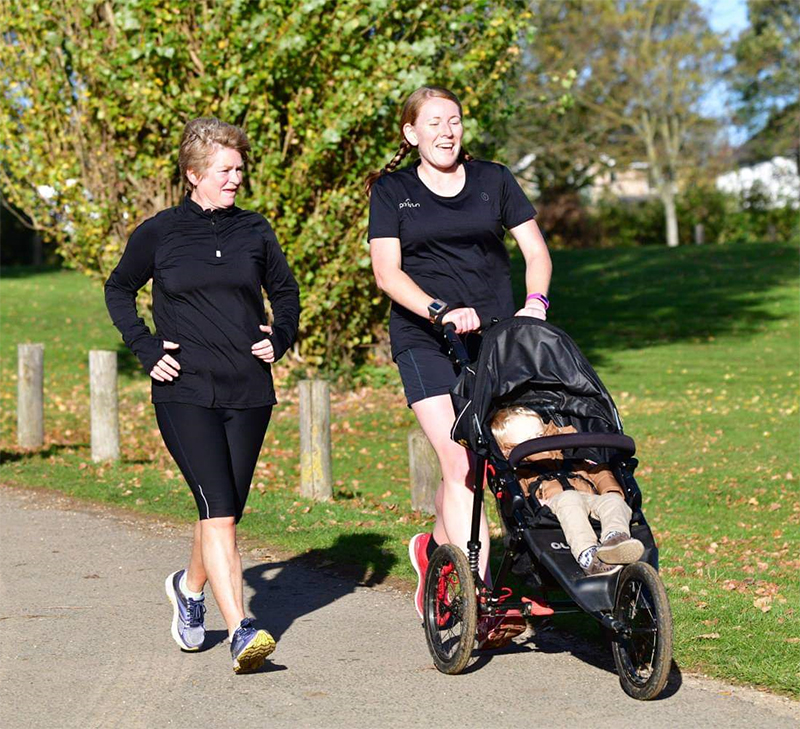 (Photo by Adrian Howes)
I bumped into a club runner I hadn't seen for a while so we fell in step and ran together, having a big catch up over the 5k.  The parkrun course had changed slightly – rather than going up the hill on hard-standing ground at the far end of the course twice, because everything was being set up for Bonfire Night celebrations that evening, we had to cross onto a zigzag hill over the grass both times instead.  The path was very narrow, slippy to run on and so tight to turn with the buggy!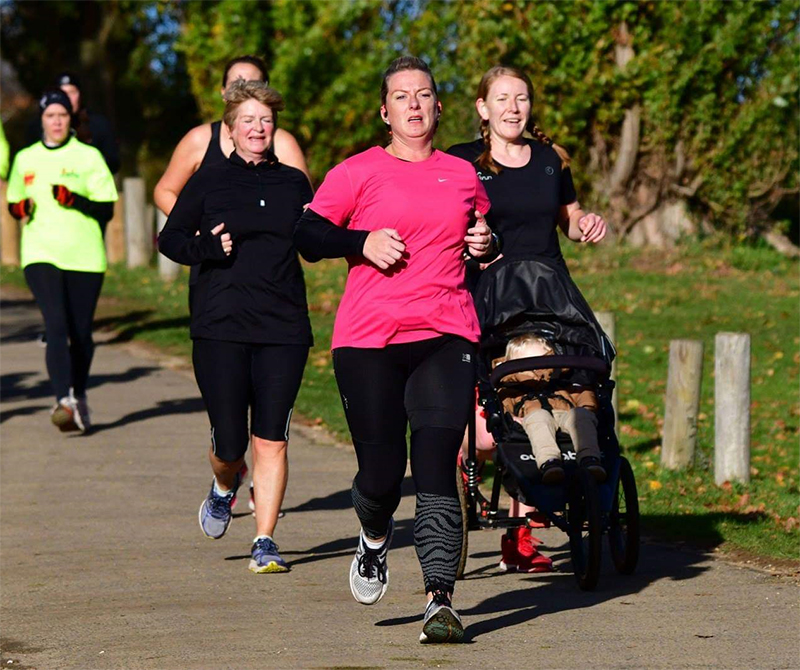 (Photo by Adrian Howes)
It was another manic Saturday for us…we parkran in Kettering, drove home to shower, make lunch and then drove over to Norfolk for my Aunt's 83rd birthday.  We stayed for a few hours, then we headed back home to Northamptonshire.  Oscar and I returned home and Dan continued driving through to Wolverhampton for the football.  Our life!
Event: Kettering
Number: 120
Date: 17th November 2018
Official time: 33:10
Position: 316/464
Gender position: 112/201
Age category position: 16/25
Dan had been on a 'health kick' for the previous few weeks.  He'd been eating better, getting out for walks and a few runs during his lunch breaks, and his parkrun times had been starting to drop as a result.  He announced on the drive over that morning that he was going to go all out and aim for a PB that day.  As I glanced across the field around the 28 minute mark, I couldn't see Dan anywhere near the finish.  I thought perhaps he'd missed his target.  But nope, he had only gone and absolutely smashed it!  His parkrun PB had been 27:29, which he set back in October 2016.  But on Saturday he went and ran a 26:36!  Just one second slower than my PB which I set on a faster course!  I really need to get my 5k game on this Winter now!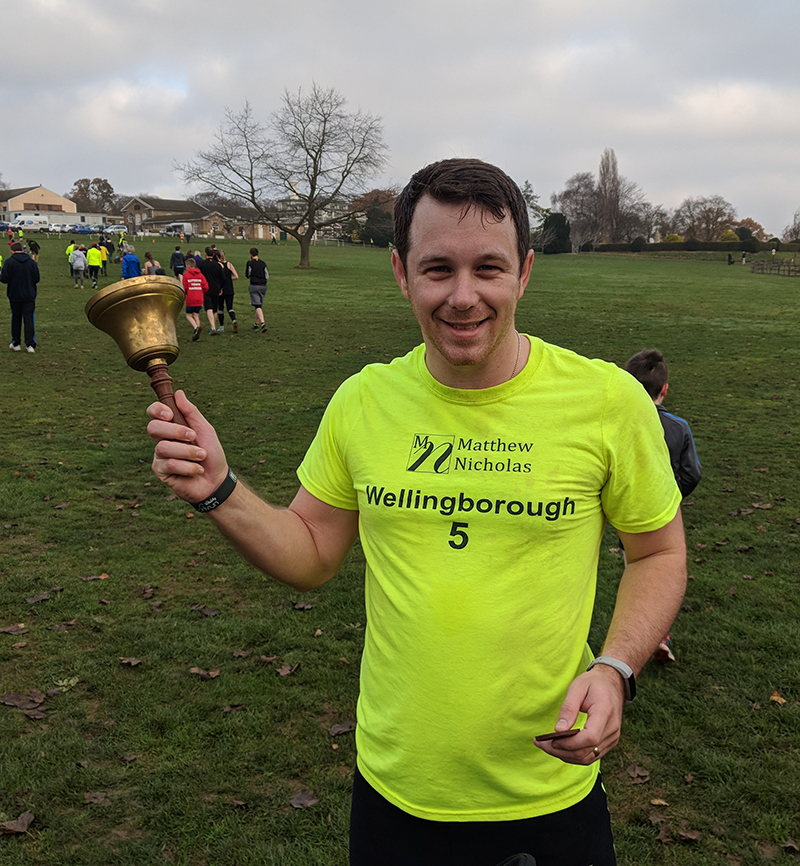 Also, how great are these 100 parkrun cookies to celebrate a runner hitting their 100 parkrun milestone?!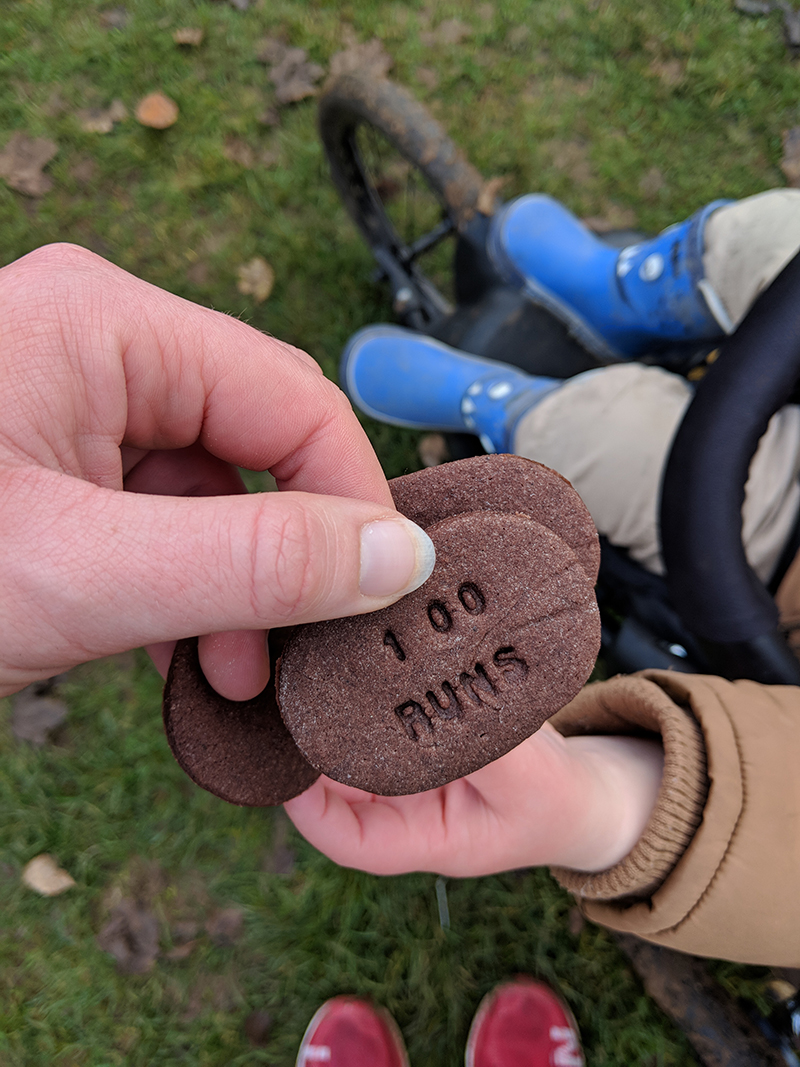 The course was still the zigzag hill over the grass this week, as there was an event on at Wickstead park but luckily it had been widened from the previous time we went so there was a bit more space for turning the buggy!  It still got pretty muddy out there though!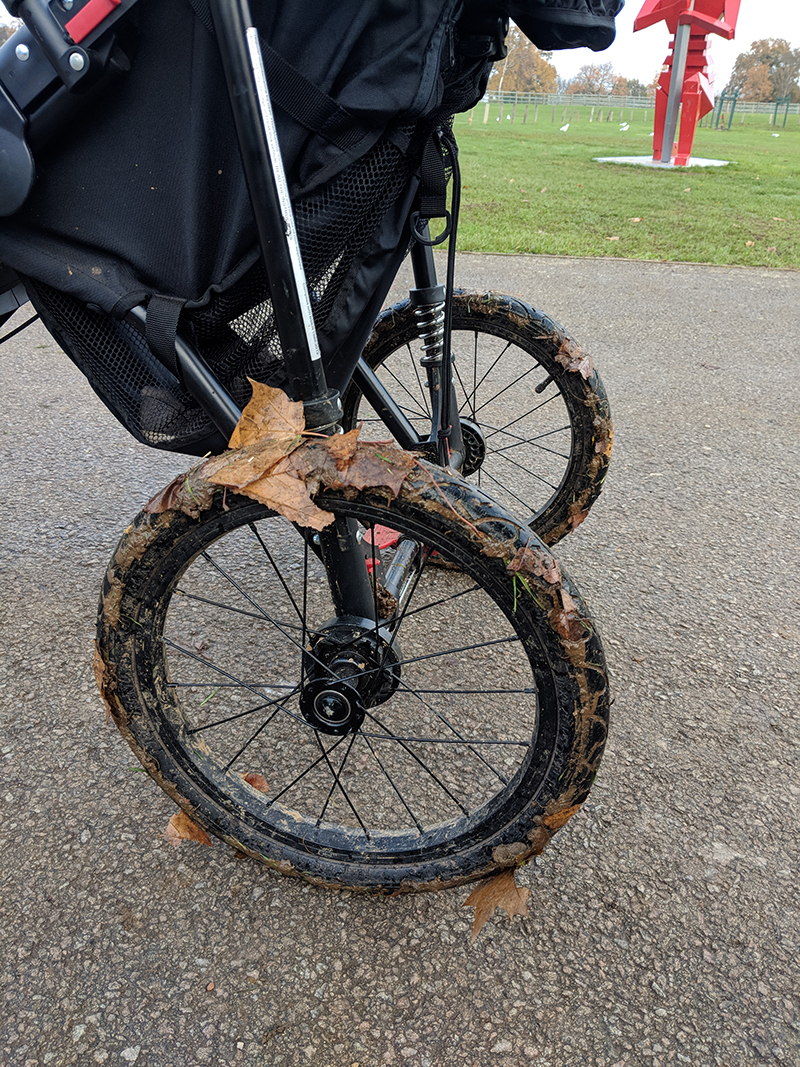 Oscar had a great time too.  We came past the station at the park just as they were bringing the train in to connect to the carriages.  Oscar was mesmerised for ages as the driver happily tooted and performed for his audience!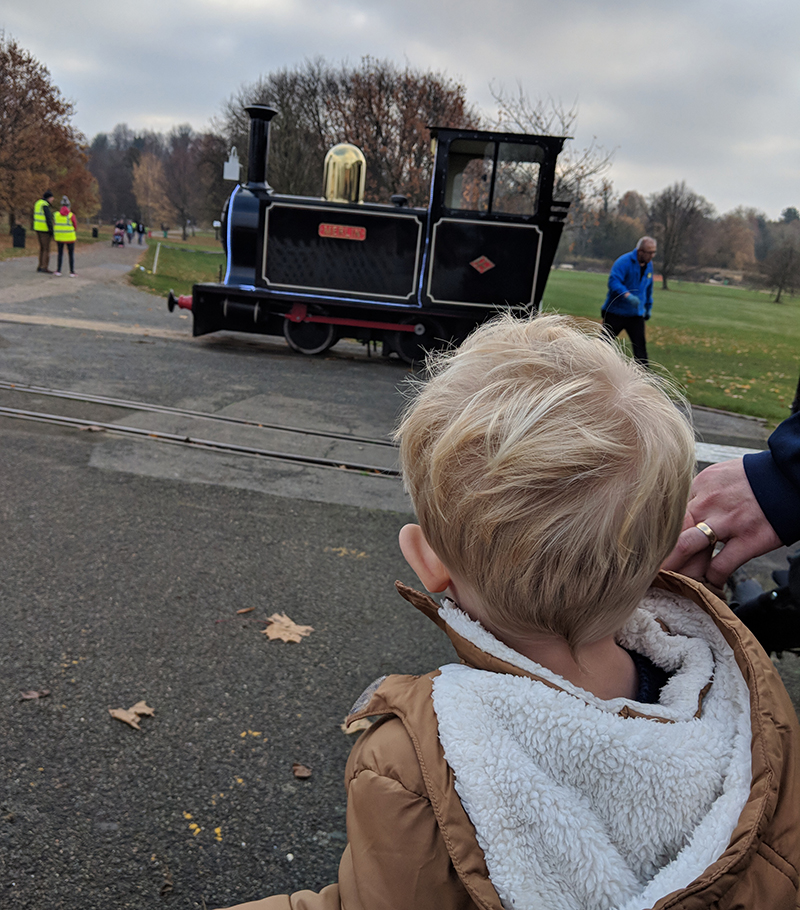 Does your local parkrun have a PB bell or course map?
Did you do anything special for your 100th parkrun?
If your partner also runs, who is faster?!